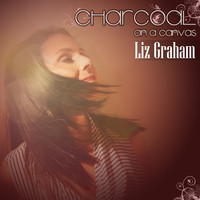 Here are a catchy couple of tunes!
I'll fully admit that I had to look up Liz Graham right away to find out where the music was exactly coming from, and perhaps what her own background might be. As it turns out, she's from a place called Nyack, New York…which is far away from where I thought she might have come from. You see…with the clarity and tone she's put into every word and syllable, I almost thought I was hearing an accent at first, or someone that was making every effort to have the lyrics heard as clearly as the human ears can take them in.
Turns out to be the latter I believe; and a lot of stylistic choice as well. Liz Graham is following in some pretty impressive influences as far as song-writers are concerned, she echoes two of my absolute favourites with tones and vocals that sound as clear, bright and beautiful as those of Aimee Mann or Chrissy Hynde of the Pretenders. With the clever pulse and beat to "Damaged," this is also a great track to pull in some of the fans that love the rhythm & energy of a band like Haim.
Stream "Charcoal on a Canvas" at Bandcamp:
https://lizgrahammusic.bandcamp.com/
Watch the video here, directed by Shari Cartun:
http://bit.ly/LizGrahamCharcoal
Reading about the song itself and her recording, Liz Graham is playing with some majorly talented players and completely holding her own. No joke, she's playing with talent that has assisted on the likes of Jewel, Suzanne Vega, Todd Rundgren, Diana Ross, Jeff Beck, Bruce Springsteen…this list could go on and on and on; believe me when I say she's working with some extraordinary talent to bring her vision to vibrant life.
And I think she's got me hooked on pretty much the whole damn rhythm and song all the way through "Damaged," save for maybe the very last four seconds. The very ending is the type that might work well from the live-stage, but here on a recording…I'm not so sure. In the end, comparatively to how little of a problem that might be for my ears or yours, there's three minutes of completely catchy melody and excellent performances. There are great ideas in both the verse and chorus, and in today's world it's almost easy to spot a song-writer from the inclusion of a bridge in a song – they rarely exist anymore!
"Charcoal On A Canvas" reveals a more rock-side to her pop-music, still very much appealing to the same sounds & influences but a bit more aggressive in the delivery like the lead singer for The Cranberries used to rip it out. Showing the strength of her song-writing her over the dynamics of many different parts and bringing the emotion up to the energy and tone of the song, Liz Graham delivers powerfully over this perfectly-assembled tune.
I'd think that either of these tracks would stand a great shot at being a legitimate hit for Liz…the chilled-out vibe of "Damaged" or the edginess of "Charcoal On A Canvas" can both stand on their own as compelling songs that make for great listening. The end result it a smooth ride through a light-rock/pop bliss and a song that really captures the attention quickly through some truly stellar performances. Liz Graham certainly gets a nod of approval from me and I'm absolutely looking forward to hearing more from her as she continues on with her music career; I've got no doubt that her style & execution will one day lead her to exactly where she wants to go with her song-writing and however far she wants to take it.
Follow her at Facebook here: https://www.facebook.com/LizGrahamMusic
Jer@SBS – http://sleepingbagstudios.ca/