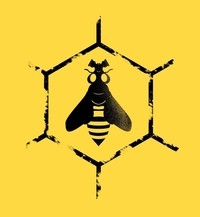 The Great Game is one of those rare bands that does it all and does it well. With a madness to them that at times recalls Mr. Bungle's unhinged spirit, their chops are considerable. Hard rock, jazz, reggae and more the music flows with such passion. Lyrically the songs are cryptic. Melodically they are aware of tradition and choose to subvert it packing a lot into these dense compositions as every song contains a plethora of ideas all of which get their own time.
Listen to the full self-titled album at Soundcloud:
https://soundcloud.com/thegreatgame/sets/the-great-game
"Science" begins the album off with a gradually increasing energy and a slight nod to Steve Reich's repetitive structures. The contrast between the calming repetition and the anxious saxophone works wonders in emphasizing the difficulty of finding inner peace. Even the lyrics which focus on the future hoping that the mere passage of time can heal all problems. From there comes the infinitely catchy "Religionism" which reflects upon spirituality and how individuals are able to warp their beliefs to justify their actions. A lounge mood defines the relaxed grooves of "Television". Going towards the aggressive is the jagged skronk of "Bipolaroid". By far the highlight of the album is the incredible "Slave Magic" whose track length manages to showcase The Great Game's considerable talent, both instrumentally and lyrically. Bringing the album to a close is the odd, Zappa-inspired work of "The Great Game" with a jaunty rhythm and endless grooves.
The Great Game is a dynamic band with an album that shows experimentation and pop do not have to be mutually exclusive.
Prioritizing the spreading of their music over commerce, this new album is available as a FREE download at:
Posted by Beach Sloth