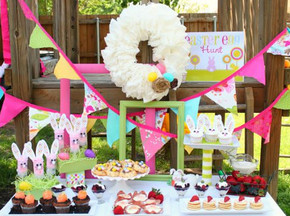 If you have children, you know that Easter becomes a time of egg hunts and parties at home and at school (if your children are in a classroom during the day). You can decorate eggs with food coloring or make a cake that looks like a bunny, but there are some other fun ideas for Easter parties that will bring out the spring season in everyone. Outdoors or indoors, here are some ideas to bring everyone together.
Making Baskets
Before all the Easter egg hunts get started, the kids will need a way to collect their treasures. Get all the supplies needed to make baskets for all ages, and have a basket making party. Kids can make baskets that look like bunnies, chicks, or anything else that's associated with the holiday. Provide a snack to enjoy while making the crafts like caramel popcorn or chips and dip.
Cookie Decorating
Almost everyone likes cookies, so why not tie in this fun activity with an Easter party. Sugar cookies are the best to use since they have a plain surface. You can use various flavors of icing and decorations on the cookies and let the kids have full control of the decoration station. Place bowls of icing on the table as well as bowls of candies to put on the cookies to make it easier for children to get what they want. After the party is over, use a Babayan's carpet cleaning service in Etobicoke to clean the room so there aren't any leftover icing or crumbs on the floor.
The Egg Hunt
There is no better way to celebrate Easter than with an egg hunt. An easy way to make sure all the children have the same number of eggs is to limit the number the older ones can collect. Make the hunt fun by putting pieces of candy and small toys in the eggs. After the kids have found all the eggs, they can enjoy a snack, or make a craft to take home. You can also get someone to dress up like the Easter bunny to take pictures with the children.
A Tea Party
It might also be fun to throw tea party with Easter decorations that include stuffed bunnies, pastel colors and beautiful decorative eggs. You can place a small table by the entry door that will welcome with personalized gift bags or gift eggs. Decorate tea tables with Easter plates, cups, and napkins as well as other items with an Easter theme. Make a snack like Rice Krispie Easter eggs, or bunny race cars. The cars are made with four marshmallows, a bunny Peep, and pretzels.
Easter is often a time when you can officially start the spring season, and a great excuse to throw an adorable party. It's a holiday enjoyed by kids and adults alike. Parties should be planned according to the age of the kids and the amount of people present. This year make it the best party ever and remember to make use of your indoors and backyard.