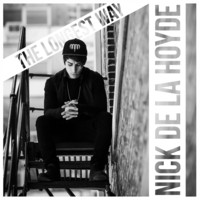 I'll admit it. When it comes to music, I am a bit of a dinosaur. Rap and hip-hop hit the mainstream when I was in my thirties when I had a professional career, wife and kids. Honestly, I didn't pay it much attention. I was recently sent, was is billed as a hip- hop song, to review. In order to not dismiss it out of hand, I asked an expert to help me. My seventeen year old son is a typical seventeen year old. He is in his rebellious stage and pretty much can't stand anything in which I am involved. I have asked him to listen to several things that have crossed my desk in the past year and his opinion is usually the same. "That sucks". So I let him listen to the new single by Australian artist Nick de la Hoyde, expecting a similar response. Much to my surprise, he actually said that it wasn't bad. Ahhh, a starting point. I dived in.
Watch the new music video for "The Longest Way" at Youtube:
https://www.youtube.com/watch?v=71f9mLpuRC4
Stream "The Longest Way" at Soundcloud:
https://soundcloud.com/nickdelahoyde/the-longest-way
I guess the first thing that strikes me about the track is the blending of styles which makes it difficult to pigeon hole as a hip hop or rap record. Yes, the verses are "spoken" or rapped (in common parlance) but the choruses are straight out of the eighties pop songbook. There is enough here to appeal to just about everyone. Choruses with enough "hook" to have you humming it all day, verses that are understandable and heartfelt and for those of you, like me, who like to really listen to the lyrics, enough intelligent expression to keep you engaged. When de la Hoyde sings (or speaks) as the case may be, "Everybody sees what they want / But their too scared to get it / Like what will they say / if they regret it" it has enough resonance to keep even the most cerebral music fans entertained. In the second verse, he sings, "Words running through my head now I can't stop it / That journey that life is the only option / That way / That drug / That fusion / The one thing in the world that can do this / Now watch it all go past cause moments like this never seem to last". Those lines are real; not contrived and the public knows the difference.
The point I am trying to make is that an artist who is true to himself will almost always rise to the top. Too many musicians of any genre are far too worried about image, agendas and what they think we want to hear rather than create their art from their heart and soul. The legends in this industry are legends for a reason; they had something to say and they found a vehicle to say it. They were real and authentic and in this day and age of packaging and media manipulation it is good to hear a young artist who can at least make me believe that the struggles he sings about are authentic; no matter the genre in which he finds himself.
https://www.facebook.com/ndela12
By: Rob Penland hosts and produces The Mad Music Asylum, a 4 hour weekly syndicated radio program and now a 24 hour streaming radio station – http://www.themadmusicasylum.com