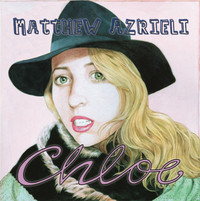 Matthew Azrieli's "Chloe" is pop music at its most affectionate. His voice is endearing and calm. The arrangements are immaculate with everything in its right place. A timeless sound defines the album with upbeat melodies and reassuring lyrics. Put together, all of this creates the kind of mood a listener can stretch out into, finding absolute bliss. Instrumentally the songs opt for spry sounds from the crisp horns to the neat drums to the economical backbone of the piano.
Audio:
https://soundcloud.com/matthewazrieli/sets/chloe-ep/s-LlijR
With the curiously named "Condoms & Razorblades" introducing the album on a triumphant note. The song builds up gradually with layers upon layers of sound. For "Mockingbird" Matthew Azrieli goes for a jaunty rhythm with a song that starts and stops on a dime. Arrangements are incredibly tight on the piece. Vocals sound akin to the gentle weariness of Bob Dylan right down to their poetic nature. Following this is the regal work of the title track. On "Chloe" Matthew Azrieli pays close attention to the small details with understated organ work and impressive percussion. "Baby it's Hard" goes for a doo-wop kind of sound, recalling a classic 50s sound. Quieter is the folk whispers of "Pass Us By" which opts for a reflective, sparse sound. Bringing things to a close is the regal work of "Where Are You Tonight?"
"Chloe" is a touching collection, a diamond in the rough. This is what pop music should sound like: clear-eyed and emotive.
http://www.matthewazrieli.com/
https://www.facebook.com/MatthewAzrieli
Posted by Beach Sloth