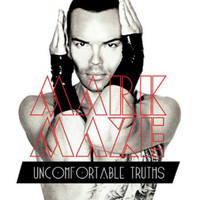 Mark Maze's "Uncomfortable Truths" are shooting stars of pop perfection. Elegantly crafted these are songs that unfold gradually and gigantically. Nothing but anthems these are the kinds of songs people have no choice but to sing along to for they are about universal truths. Love, anxiousness, rejection, determination, these are the key component of each and every song.
Stream the full album at Bandcamp here:
http://markmaze.bandcamp.com/releases
Watch his music video for "The Devil May Cry" at Vimeo:
http://vimeo.com/107016296
"The Devil May Cry" starts on a somber note. At first the piano lulls the listener to sleep as the rest of the song begins to slowly sweep into the mix. Synthesizers build themselves up in the background until the song begins to unfold after the first third. Rock and electronica merge into a joyful whole on "Get Gone". Frenzied guitars introduce the aptly named "Crazy" whose rhythms are chaotic and whose vocal delivery is impassioned. With a dance-rock vibe comes the infectious grooves of "Get Ya Back Up". By far the highlight of the album everything works in the song. Beats hit hard, the guitar riffs are excellently crafted, and the lyrics flow with this overall sense of positivity that emanates from the song. Bringing things to a sensitive close is the tenderness of "What Are We Fighting For?" On this song Mark Maze explores the purpose and reason for why relationships eventually collapse and what can be learned from such hardship.
With "Uncomfortable Truths" Mark Maze is able to tie together a vast variety of sounds to create a bountiful beautiful album that bursts at the seams with heartfelt sentiment.
Websites:
www.markmazeofficial.com
www.facebook.com/markmazeofficial
Posted by Beach Sloth