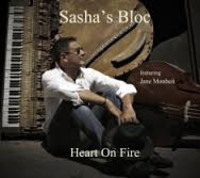 You be hard press to find something negative to say about Sasha's Bloc. They've honed their old school jazz and swing sound to a fine art, and deliver it perfectly in their new album.
Founded three years ago by Alexander Gershman, the bassist, the band combines a wide range of musicians who are all intensely focused on bringing jazz back into the mainstream.
Bands like The Cat Empire have done a great job incorporating parts of jazz into their sound, and certainly The Cat Empire have done it with great panache and success – but what Sasha's Bloc are doing deserves more widespread recognition. This is the sound that resonates heavily with ska music, and hell, it could be said to be the music that started all music.
Gershman, originally from Moscow in Russia, is also a Urologic Surgeon of some note – he was the first surgeon in the world to use robots to assist him in the operating theatre. It should come as no surprise then to find out that his band is equally as impressive as his medical career.
From soft jazz in Heart on Fire to scat and swing infused scat sound on Angel, Heart on Fire takes the listener on a musical trip through the 1920 and 1930s musical scene. The ever changing vocalist throughout the track is a beautiful thing to behold. In other bands it would sound too disjointed, but with Sasha's Bloc it's just another thing to delight you – and the best thing about it is how organic everything sounds.
The songs range from happy, soulful to even melancholic. The Duke is in the latter category, and all six minutes and five seconds of it are devoted to just the music. If ever there was a time to close your eyes and let the melodies wash over you, this is it.
The album is finished off with the marvellous Manhattan, which wraps it all off with the most gloriously upbeat way – even people who don't like jazz or who never had the inclination to listen to it will be tempted to stick around the find out more. It urges and begs you to listen more, to do some research and to fall in love with the music with its catchy lyrics, snappy brass section and oh-so-silky drumming.
This isn't just an album for people who love jazz, this is an album for people who love music. It's a throwback to a different time, but that doesn't mean it won't fit perfectly with modern life.
5/5 Stars
SOUNDCLOUD: https://soundcloud.com/sashasbloc
Russell Hughes