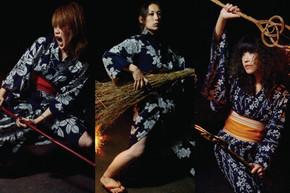 Tokyo-based band Bo-Peep stand to boggle your mind as much as intrigue it as front members are often leaping wildly across the stage, dressed in bright short yukata (traditional Japanese summer party dress), with hard grunge sensibilities and catchy melodies. Having infused new energy into the Fukuoka and Tokyo underground post-punk scene with their second album 'SICK ORANGE TELEVISION" in 2008, they also began their foray in to the festival scene: playing Japan's largest festival Fuji Rock, traipsing to the UK's London Calling event, and making an appearance at SXSW in 2009. Bo-Peep is preparing for their second SXSW appearance, as well as their performances in several American cities with the "Japan Nite" tour.
We had a chat with founding members Ryoko Nakano (drums) and Mika Yoshimura (gtr, vocal) about their inspirations and band work.
How did you get your start in music? Is your family supportive of your decision to not get "real" jobs?
Ryoko: I started playing music at an an early age. Piano at age 5. I became interested in playing drums around 15. My f amily has always supported my music dreams ~ both my mother and sister play the paino quite well, and my father's hobby is playing acoustic guitar.
Mika: I started my first band while in high school.My family didn't give so much support and is still a little confused by it. No one else in my family plays a musical instrument or has a passion for it.
What musical artist has been your strongest influence? What music do you often listen to?
Mika: The Smashing Pumpkins were one of my earliest and strongest influneces. These days I do not often listen to much music although I do work on creating it.
Ryoko: When I first heard Smashing Pumpkins and Rage Against The Machine, I was really quite amazed by their strength and style. Now, I listen to and enjoy almost all styles of music. Recently, I have been into Alternative Electronic.
How do you come across your own song ideas? What is your writing process?
Ryoko: I often take long walks while listening to music and thinking. My musical ideas are born in this combination of thoughts of life and music. Then I open up garageband on my i-phone and out them in.
Mika: Often I start to write something on my own, then I listen to other music for extra idea or power. I compose by doing a lot of air-guitar and then actual practice in my room!
Although your native language is Japanese, many songs have English lyrics. When do you decide to use English words?
Mika: Sometimes English words and rhythm suit a melody line much better than Japanese words.
Any songs in your mp3 player that you would be embarrassed for us to know you like?
Mika: (laugh) Of course not! I have only cool songs on there!
Ryoko: No. (We at Skope suspect she may be hiding some tunes by "The Carpenters" in there!)
What places would you like to play? Any particular "dream" band you would like to tour with?
Mika: We love to play overseas! And doing shows with our friends "Super Junky Monkey" was a great experience. We wish we could play with them again.
Ryoko: Agreed. Travel overseas and for music is great. The style of "Super Junky Monkey" worked well with ours. It would be a dream tour.
Writer note: Super Junky Monkey was a Japanese heavy-metal influneced girls band. The band went on long-term hiatus in 1999 after the singer commited suicide.
Do you ever desire to play music in a style different than your current style?
Mika: Like "Rage Against the Machine!" Let's do it!!
Ryoko: I like to play R&B and soul, when do working on "Bo-Peep" music.
If you were not playing music, what jobs do you think you would have?
Ryoko: Actually, I do work as an admin assistant in the day. But probably I would prefer to study culinary arts and be a chef, if not for music.
Mika: I guess I would have some sort of desk job. And go drinking after work every day. Wait…I already go drinking every day!
Bo-Peep North American Tour Schedule 2015
3/19 GRACKLE / Austin TX / afternoon show
3/19 Liberty / Austin TX / night show
3/20 Zen Fit / Austin TX : hosted by Tom Tom Magazine: http://tomtommag.com
3/21 BD Rileys / Austin (SXSW Showcase)
3/22 Double Door / Chicago IL
3/23 Ruby Tuesday / Columbus OH
3/24 Knitting Factory / NYC
3/26 New Earth Music Hall / Athens GA (Slingshot Festival): http://www.slingshotathens.com/
Band website: http://bo-peep3.com/english/
Video: https://www.youtube.com/watch?v=AI6stEhlay8
Apryl Peredo, MBA – http://twitter.com/#!/interidoru