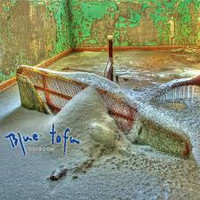 Ambient pop band Blue Tofu's newest album "Our Room" is a collection of smooth songs that bring a new age sound and feel to the record. I love the idea behind this record but I feel the band missed the mark in some ways.
While Blue Tofu is able to create a warm and rich sound on some songs like "Into Blue and Fade," on many songs like "Red Guitar" and "Hunger Tango," it feels as though the lead vocals are forcing a sound that just doesn't come across as soulful as they intended. On top of that, I found the quality and production of the drums to be lacking on most songs. It seems as though the band is going for a brooding and captivating sound that they don't quite pull off on the whole.
What I do like about this album is its jazz-like quality. This isn't your typical pop album with predictable melodies and beats, but more of an experimental sound they call "ambient pop" in which most tunes take on a unique life of their own. This band creates interest and appeal with their meandering songs, and if they were able to follow through with vocals and percussion, their album would be much more compelling.
"Our Room" is Blue Tofu's second album, which came out 12 years after their first. The band is comprised of musician Tim Story and singer/song-writer Andrea Mathews. Story is a Grammy-nominated composer with a background in jazz, ambient music, and chamber music, and he provides the instrumental part of this album. Mathews is a lyricist and vocalist who penned this album and performs all of the vocals. The combined background and talents of these two musicians converges in a jazzy album that is at times unexpected and interesting. But overall, I thought this record was held back by its sometimes-forced vocals and lower-quality production.
I-TUNES: https://itunes.apple.com/us/artist/blue-tofu/id4615459?ign-mpt=uo%3D4
Review by Christen Johnson