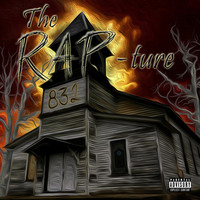 832's "The RAP-ture" is a moody album that emerges from the darkness into the light. Throughout the album the tempos move through at a slow and deliberate pace. Vocal delivery matches the overall sense of darkness that permeates most of the album. Religious imagery finds itself embedded within the lyrics, the idea of eternal damnation and reflecting upon the idea of inevitable death as well as the concept of resurrection. Additionally 832's work also includes a great deal of references from religion as well as from pop culture.
Stream the full album at Bandcamp:
https://832music.bandcamp.com/album/the-rap-ture
Rainfall and a shuffling slog of a beat introduce the opener "The Prayer". For "Any Way You Can" 832 experiments with a number of different techniques. Lyrics deal with the abuse of Xanax and the anxiety of life. Eventually the song transforms into a strange ambient interlude. The rhythm picks up on "Burn" whose sound is celebratory, taking on a different persona from what precedes it. A carnival atmosphere takes over for "Sick the Dogs on 'em" with a nervousness that makes it incredibly compelling and one of the highlights of the album. "Aphrodite" sprawls out from its classical sample into calm synthesizer sweeps. By far the greatest amount of chaos comes from the aptly named "The Showdown" featuring uneasy bass rumbles and aggressive vocal delivery. Ending the album off on a positive note is the hopeful "Skyline".
Watch the music video for "Burn" on VEVO:
http://www.vevo.com/watch/832/burn/QMGR31407889
Thanks to the sense of narrative woven within the album the songs feel like pieces to a larger picture, of one beginning with hopelessness and ending with fulfillment.
http://www.facebook.com/beatsdemand832
Posted by Beach Sloth