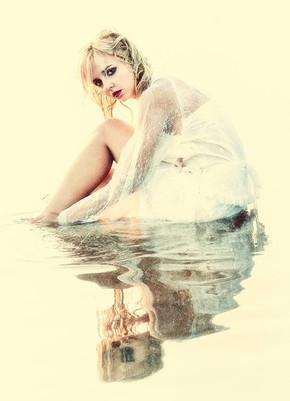 Meet the positively cunning Fox Lima as she treks through the mysteriously foxy world of sound & vibration. Hailing from Latvia, the "nation of nature", Lima's language of music is full of wonder, spirituality & tranquility. Fox Lima has won highly recognized songwriting contests and has been involved with international projects that benefit mankind. Standing beside the crib where Jesus was born in Bethlehem and touching its star made Fox think to herself that it was a "sign" and that she "had to carry the message". Amazing experience for Lima that had her feeling "calm" and "inspired" even with a war going on not far from her. Fox Lima's personal message is to have "force" and "courage" in this life, so prepare yourself for the ongoing journey.
J Rae: So your real name is Alise Ketnere, but your stage name is Fox Lima and so wondering how in the world did you come up with that one and what does it mean to you?
Fox Lima: This stage name has been on my mind since my childhood. It is not just a made up name. It was an officially assigned radio aviation nickname to my father who was an aviation radio layman (YL2 FL stands for Yankee Lima 2 Foxtrot Lima). After father's death I took the shortened version Fox Lima as a memory of him.
J Rae: Couldn't help but notice that you live pretty far away all the way in Ogre, Latvia to be exact—just a few miles away right! I, for one, know absolutely nothing about life in Latvia so if you wouldn't mind telling us what it's like living there and what makes Ogre, Latvia unique & special compared to other countries?
Fox Lima: You can fall in love with this country at first sight, with its wonderful nature and medieval architecture, severe winters and warm summers which can sometimes swap. Our people are very sensitive to the cycles of nature, so most of us believe in horoscopes, Esoteric and all those kind of things. The solstice celebration is a very special thing in Latvia. So we are a kind of nation of nature.
I am from a small town Ogre, which has nothing to do with cannibals. According to a legend, a long time ago the place was given the name of a fish that used to inhabit the river flowing through it. In the early 19th century it was a resort place of wealthy Germans. Some of their beautiful old summer houses surrounded by woods and the river bends can still be seen here.
Although on the map Latvia looks just like a tiny piece of a puzzle in the distant corner of Eastern Europe, we are quite globalized and have the fastest Internet in the world. The average Latvian is able to speak 4 languages, goes folk dancing and sings a lot.
J Rae: I really enjoyed listening to some of your music because much of it has a very tranquil &Worldly sound. What inspires you to write this World music that is very hypnotic & relaxing in nature? Are you a peaceful, laid-back person yourself?
Fox Lima: Yes, I am the kind of person just as you described. Unfortunately, I'm not a sporty type of girl. Do not like racing or fighting. I enjoy exploring the world, noticing every single detail which helps to understand the whole picture. I like to write music and touch the world of thought, finding another dimension. This requires peace and meditation
J Rae: Right away when previewing some of your tracks, I heard standout vocals where I have to say you have one refined voice that is rich in texture and soothing to the ear. When did you start singing and what got you interested to do so? And have you ever had vocal lessons/training because from the sound of it I would put my money on absolutely yes?
Fox Lima: Actually, my voice caused me some problems. I do not know where I get it from, but I was pretty sure that if I had a huge range it should have been used by its full spectrum. In the early years of my career I was called a Space girl. Some members of the jury admonished me not to come on stage at all if I did not know what to do with my voice. However I got bored by using a single range only. I was looking at so-called perfect girls with their perfect voices and could not stop noticing their sameness. So I just carried on and developed my own voice style discovering that the voice does not only mean just the sound on its own, it also involves articulation, rhythm, phonetics, so you can do lots with your voice. Apart from experimenting I started to attend classical lessons with Anna Krupska, the opera singer. Then something happened, I tried to enter the Opera Department at the Academy of Music. Though, as later realized, it was not my way and I failed, I still love classical music and I am proud of our Latvian girl Elina Garancha who sings at the Metropolitan Opera in New York.
J Rae: I noticed that your first performance took place when you were 17 and wanted to ask what that experience was like and how did it feel at the time? Also, how old are you now and how many shows have you done since then?
Fox Lima: I was terrified and felt sick. I did not know where to go and then ended up on the stage. My very first performance was actually supposed to be at the age of 16, but I just ran away shortly before it. All this happened more than 10 years ago. Since then I have participated in various artistic projects and contests mostly abroad. I like to give people a message and the quality is more important to me than the quantity.
J Rae: I have to say that much of your music seems to have a spiritual quality about it and wanted to ask if you are a spiritual person yourself and what do you believe in? Is there a particular religion you follow and if so how is it important to you and your life?
Fox Lima: I am sure; I do sound like that. I won't deny this. I'd like to clarify this a bit, though. Religion gives the meaning and the goal to a human being. I'm more of a metaphysician, viewing the world as a miracle full of surprises. Sometimes I just don't have a clue about my mission in the world, but I am always curious as a child about what's going to happen now.
J Rae: I saw that in 2013 you were honored with winning the Grand Prize in the John Lennon Song Contest in the World category for your self-written song "Tirpini". This must have been such an exciting moment for you and wanted to know how it came about for you to submit your track to this contest? And I'm not familiar with this John Lennon Song Contest, so would you mind telling all of the Skope readers a little more about this competition? And finally, as a huge John Lennon fan and one of my favorite solo artists of all time, I'd like to ask if you're a John Lennon fan yourself and if he or his music inspires you at all?
Fox Lima: It's one of the greatest songwriting contests where laymen and professionals from all over the world can participate. It is a great opportunity for anyone who composes music. You're recognized and the award is grand. I have actually started to build a home studio as there wasn't enough space for my awards. There were such celebrities among the jury…… As for me it was a feeling of coming out of the closet. I was just one of the voices of Enigma, but then Fox Lima appeared with its own song, lyrics and version. I was proud of myself. Then I got another John Lennon Award by people vote.
John Lennon and Yoko Ono are the most amazing and extravagant couple that I have read about. I grew up with such songs as "Yesterday" and "Ob-La-Di, Ob-La-Da". "Yellow Submarine" was the favorite animation of my childhood. I've read all the available Beatles biography books in the library. Yes, I am a big fan of them.
J Rae: On Christmas 2011, I was happy to discover that you participated in the international project "Peace on Earth" held in Bethlehem as a dedication to refugees all over the world. Very rewarding work it sounds like and wanted to know how this came about, what the experience was like and did it change your life in any way? Also, what did this project mean to you personally?
Fox Lima: That was the most wonderful project I have ever participated in. The song "MMX The Social Song" became a promo song of "Peace on Earth". I was invited as one of the members of the project. We were singing "Imagine" on Bethlehem Square on Christmas day. Yes, it did change my life. I discovered new people, cultures and destinies. Before that I used to compose mild mantra-type songs, and then came more extent versions on a larger scale.
J Rae: Being that I believe Bethlehem is the birth place of Jesus Christ and is of major importance to me, how do you personally feel about this and what was it like stepping foot on such sacred ground in Bethlehem?
Fox Lima: It was a Christmas miracle. I got to see the crib where Jesus was born and touch its star. Amazing. It seemed that it was a sign and I had to carry the message. Strange …, I felt calm and inspired, but the war was going on just nearby me. That was bizarre.
J Rae: I saw that you had the pleasure to work with the electronic group Enigma supplying lead vocals & lyrics to their new single "MMX The Social Song". This had to be pretty cool and wondering what it was like working with Enigma and also would like to know what kind of traction the song is currently getting? And is the track getting decent airplay?
Fox Lima: I was a fan of Enigma. It happened by chance when I saw their contest for fans advertised due to the 20 year anniversary. And I saw it just the day before the deadline. Very typical for me to see something on the last day, to hand in and win. To be honest I did not expect anything and was very surprised seeing the results. The whole song production work was published. I received personal congratulations from Michael Cretu via video message. Fans from all over the world were sending their songs, album covers, videos. I also won in the contest of Enigma's video clips. This song is not commercial, but it was a social networking success. It was listened and watched by millions of YouTube users around the world.
J Rae: In 2013 your song "Tirpini" was once again recognized becoming a finalist in the International Song Writing Contest competing with 20,000 songs, so congratulations on that first off! But want to know first what is it about your song "Tirpini" that seems to stand out and appeal to listeners? And so it seems you know a thing or two about writing a winning song and would like to know where the inspiration comes from to write lyrics to songs?
Fox Lima: Being metaphysician I am always passionately seeking beyond this world. A lot of things have happened by chance as someone was talking to me and I just recorded it in the way of music. Lyrics are mixed in different languages. I like to take it down in the form of an ancient Latvian record which is called 'Dainas'. I am using Latin language and my own made up language to somehow come closer to the immense language of music. Sound and vibration is such a mystery. Perhaps I won't be able to disclose this mystery, but I have felt and had a hunch of it.
J Rae: Being that your songs are sung in a foreign language, wonder if you have any interest in recording songs in English to maybe appeal more to a U.S. audience? Also, have you ever been to America and any plans of maybe visiting soon or even touring perhaps?
Fox Lima: Yes, the songs in English are being composed now. This is going to be an interesting new stage. I'd like to visit America. I've got lots of friends, fans and great projects created by the famous American musicians. The visit to the U.S. is on my list.
J Rae: This is a completely random and lame question but the hell with it I'm gonna ask it anyway! Do you like foxes and lima beans? Foxes are cool animals but personally lima beans make me puke and are quite disgusting. Sorry but please don't hate me for this one!
Fox Lima: Interestingly enough, I was told that when I was born my eyes used to look a bit foxy, and later people described me as a fox, not in connection with the performance it was just the way I looked. I used to have golden hair fixed in a ponytail, looking at people in kind of a foxy way.
By the way beans are my favorite dish, and many Latvians grow them in their gardens. I'll cook a delicious bean dish for you, if you visit Latvia.
J Rae: You were recently involved with a Benefit Album called "2 Unite All" created to help bring peace and healing to people in Gaza and the Middle East. And this record included some big-time musicians such as: Peter Gabriel, Stewart Copeland of The Police, Serj Tankian of System of Down, Rick Allen of Def Leppard and Grammy Award-winning opera singer Sasha Cooke along with many other great artists. As a BIG fan of Peter Gabriel, The Police and Def Leppard, this must have been an amazing experience! What the heck was it like working with some of these top-notch artists and did you get to know any of them or learn anything out of the process? And what does helping people in Gaza and the Middle East truly mean to you and your life?
Fox Lima: At first, I did not understand the extent of it and the people I worked together with. I've been involved in the Peace on Earth Project as a musical ambassador for several years. For the last 4 years I have actively participated in all their projects. Last summer I was invited to create an album. My beautiful song "Gelandelon" was placed in it. Only after I saw a list of the albums I realized what superstars I'd been together with. My mother drew my attention to one of the legends Peter Gabriel, who was also on this album and who had performed in Riga last year. Only later I discovered who the rest of participants on this album were. I was stunned. I hope that the project will expand and all participants of the album could be together on the same stage one day
J Rae: It looks like you've been on the cover of magazines and have a lot of modeling shots & self-portraits, so is modeling part of your life as well and how does this compare to your music side?
Fox Lima: Yes, it is a part of musical performance, the means of artistic expression. It's a good visual message. I'm using a kind of metaphorical image to tell a story. I've been a product personality for a number of products and on magazine covers. Now I'm only having my pictures taken purely for musical promotion. At the beginning I wanted to do a modeling career at the same time, but getting up at five a.m. and being photographed in a dress while it was snowing outside put me off.
J Rae: You've obviously been a part of some genuinely good, charitable projects so hat's off to you for wanting to help others and make a difference in this world. Are you involved with any charities or non-for-profit organizations? It seems that this entire planet could use a little Fox Lima in their lives because peace and healing is the key to tackling all of the problems & madness in our world. Do you honestly feel that Universal Peace on Earth could happen for real one day?
Fox Lima: This issue also requires a philosophical approach. I myself have gone through pain and despair and finally came to the conclusion that I want to reduce the suffering of mankind as much as I can. My friend Steve Robertson of the project Peace on Earth discovered an important thing, saying that: "I'm going to look for the good in people and there is something in each of us." But most of the time we are full of suspicion. We are looking for the evil in each other and of course, we find it. It is our choice. As in "Star Wars", I have chosen to be on the good side no matter how fantastical it sounds. One should have force and courage. My musical message is the least I can do to the world.
By Jimmy Rae (jrae2@att.net)