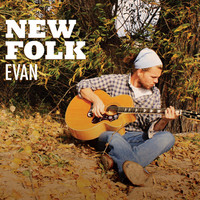 Evan's "New Folk" shows the future of folk music. With an excellent mixture of both Evan's intimate voice with the full warmth brought on by his band, "New Folk" excels at the emotive. Songs are remarkably catchy. Rhythms roll by as gentle breezes. His strong voice is the centerpiece of the album weaving the many pieces together into a fully realized whole. Lyrically the songs deal with the need for relationships and how they develop ever so slowly.
Audio: http://evansongs.bandcamp.com/
The title track and opener "New Folk" starts the album off with a blast. His voice sings joyfully as the band is in full swing. Delicate is "Pohiki" whose guitars whisper as Evan's voice soars above apparently filling the entire space. By the time the drums comes on in it feels necessary to have some accompaniment on this journey. "Sticks and Stones" takes on a poppy approach with the delivery moving quickly, the band's tempo several steps faster, and the song overall describes the importance of collective action. On "Morning Dew" Evan goes for a balance between folk and pop. By far the highlight of the album is the easygoing nature of "Blow Me Away". Full of optimism the guitars are crystal clear. Balanced between delicate textures and outright relaxed Saturday afternoon grooves, downright perfect.
Lyrically the songs are a mixture of poetry and narration. Evan manages to accomplish a lot with "New Folk" showing a fresh approach to an old beloved sound.
http://www.facebook.com/EvanSongs
http://reverbnation.com/MusicbyEvan
Posted by Beach Sloth – http://beachsloth.blogspot.com/