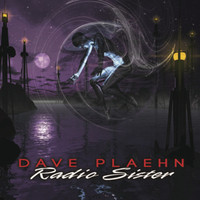 Dave Plaehn's "Radio Sister" is music that soothes the soul. Incredibly lush the arrangements are tasteful and restrained. The playfulness of the band is apparent, the glistening keyboards, the tight rhythms, and the clean guitars. Lyrically the songs are full of hope. Stylistically Dave Plaehn covers a wide range from Steely Dan inspired blues to relaxed reggae grooves. Whatever style is ultimately utilized it possesses its own unique personality as Dave Plaehn weaves together these small glimpses of a daily life.
Listen to "Radio Sister" in full at Bandcamp:
http://daveplaehn.bandcamp.com/
A saxophone opens up the album on the nimble bass line of "I Want Love". "Nothing's Got a Hold on You" goes for a relaxed 70s vibe as Dave Plaehn's vocal delivery is particularly fine. By far one of the highlights the song achieves a fine balance between the groove and dreamier moods. On "Hello, Melinda" Dave Plaehn recalls images of Van Dyke Park's "Discover America" with a fine intersection between reggae and country. Tempos shift wildly on the playful "Soda Fountain" whose unpredictability is one of its highlights, with the lyrics neatly matched by the spontaneous work of the band. Akin to a gentle breeze is "Give Me Lovin". Removing the band entirely is the stripped down rawness of "Leadbelly Medley". Keeping up with this relatively direct delivery is the album closer "Stranger Blues" whose impassioned lyrics bring the album to a pitch perfect conclusion.
Bringing it all together lets "Radio Sister" celebrate a wide array of colorful sounds and textures.
Posted by Beach Sloth