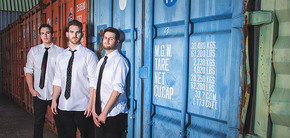 Los Angeles-based pop-punk, progressive rock band Enter The Paradox release their upbeat single that will surely excite any fans of Blink-182, Fall Out Boy and Muse. Enter The Paradox aim to showcase their high-energy and passionate storytelling through their debut album Love, Loyalty and Mayhem: Part 1 due out April 21, 2015.
"Sweet Intentions" is the first taste listeners will get until the release of their debut, a unique concept that unfolds through the lyrical prowess of front man Brian Bolen.
"From the beginning, I wanted every album Enter The Paradox made to be the essence of a story brought to life. Not just your typical love story, but one much deeper, with twists and turns you just don't see coming; I wanted it to embody the feel of a psychological thriller with strong archetypal characters and themes," Bolen states.