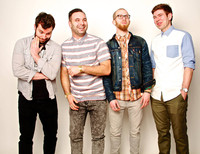 This is the energy that I need right now to wake me up. I've been on my grind again; passing the 300th mark for reviews officially with #301 right here with Young Pandas, the opening cut "Say What You Mean" starts off Enigmas with the musical equivalent of a Red Bull as they get the tempo & energy up quickly as the album begins. Stellar track – this is every bit the proof you need that first impressions can be just as important and strong as we've assumed they were; this opening track has enough impact to last the entire album.
With their genre based in what they call 'Soulstomp' – this ALSO makes a ton of sense to me. "Say What You Mean' is like a glorious combination of, like, Prince-meets-Bruno Mars…something along those kind of lines. The vocals are a complete strength in this band, as is the electro-pulse and synth aspect of the music; I noticed these gentlemen cite Passion Pit amongst their influences…that's another good call, you can definitely hear that in there too.
But forgive me dear readers…you DID notice that I just chucked around one of the monikers of the mighty Purple-One did you not? Show me ten artists or bands that don't want to be compared to Prince somehow one day and I'll show you ten liars…even in the metal genres.
As "Suspended" starts up to follow "Say What You Mean," Young Pandas bring in a little more of the funk & the R&B as the album continues. Reaching the top of their notes, hitting them perfectly; but you can also hear the amount of effort its taking them to hit the highest ones. I think it gives the track a real honest vibe you couldn't possibly duplicate; and again, those notes are hit with solid confidence – it's only on their travel up towards the solar system that you can hear the power building up…you might wonder for a second if they might NOT reach the tones they're going for…but I tell ya – fret not, this band is as golden as Charlie's ticket into the chocolate factory. Complete with horns, harmonies, great drums and a strong bass-line that could use a bump or two in the mix, it's another impressive assembly right at the beginning of Enigmas.
You certainly can't argue that these guys don't understand great, innovative song-writing; they clearly do. From the creativity you can find in tracks like "Suspended," especially towards the end, to the solid note for note perfection you'll discover in songs like "Keep On," there's more skill in these four than you might ever assume before listening. As a studio, when recording we get asked all the time how to get that 'live' sound on a disc by bands and artists that come in; I think I'm just going to hand the phone to the people that ask from now on and tell them to call up Young Pandas – these guys have absolutely nailed it. All three of these tracks have displayed that wonderful feeling, and it really seems effortless for this crew…I can't stress just how 'at home' this band sounds in making their music. This is right 'in the pocket' as they say.
And I'm not saying that the bass-man was getting revenge for a previously low-mix in of his instrument on "Suspended," but DAMN would you LISTEN to that incredible solo on "Keep On?" It's moments like this that make getting zero sleep all the time a worthwhile venture; it's moments like this that keep me awake, inspired & loving LIFE.
Middle-cut of the seven, "Common Ground" is quite possibly the song you'll latch onto quickly. Not trying to be a dick whatsoever, but this was probably the most difficult song for me to get into myself. On the one hand, it's brilliantly-played, carries incredible melody, great guitars, great vocals & harmonies…and maybe if not for the unbelievable harmonica-solo, maybe I wouldn't have latched onto it much at all despite how well-performed and catchy this one is. So what's my problem? Well…it probably depends on who you ask…but right now it's just that by comparison to the opening three I suppose this sounded a little too-stripped back and as a result almost sounds easy for them in a way. I think it's always a good idea to diversify a sound and take your music to dynamic places over the course of an album; but in creating those dynamics often the result can be sounds and songs that resonate stronger than others do when they invade the earholes of a new listening face. So yeah, there you have it…for me, "Common Ground," was still a great song, but sandwiched in between a killer opening three that radiate real musical brilliance and the jaw-dropping track to follow "Superwoman (Your Fool)" – I mean, you gotta understand…no matter how much you might love or not love "Common Ground," it's like Rocky Balboa in the rounds BEFORE the win…it's gotta fight harder to win your respect around these more diverse, more complex tunes around it.
So let's talk about that following track…"Superwoman." Good LORD the lead vocals actually sound like Prince reborn as the track begins. As the energy comes up, it becomes more close to something that would come out through a combination of The Roots meet Minus The Bear in a track that is so completely flawless and well-timed out it'll make your head spin. Great drums here…hence the apt comparison to The Roots own Questlove, cause yeah, they're coming out smooth like that. And about halfway through or so, they borrow another move out of the purple-playbook bringing in an inspired rap-verse that's like something you'd expect from The New Power Generation but sounds modern and convincing like Kanye through a confident delivery. And these guys can really end a song well…let me just add that on here…right to the last funked-out note on any of these songs, these Young Pandas know the writing doesn't stop until the sound does and make sure to maximize every note.
"Down" is another excellent cut on Enigmas and one of the most inventive for the vocals. Maybe we've got something like Beck-meets-Tower Of Power here on this one…all I can tell ya is that any comparison I've made so far in this review has been made to some of the most pure genius of our musical history and modern-day…this band is honestly beyond impressive. Really incredible instincts and great communication instrument to instrument and seriously complex timings, style-switches and challenging parts written all throughout that are performed with a veteran's touch. You'd think these Young Pandas would be old by now and have won several Grammys (like, the GOOD ones they used to hand out back in the day…) with the way that their sound comes out as perfectly as it does.
In a MASSIVE switch in sound at the end, they strip it down again to the acoustically based & vocal-driven final song "The Lights." So why does this work more than "Common Ground" did for me? Listen. You tell me why. I could explain it to you all day long, and you may or may not take my word for it…they're both good songs; but perhaps…just perhaps, one of these is more than good – it's fucking GREAT. You tell me which one captivated you more…cause we already both know the answer. The approach to this stripped-down style is absolutely conquered here on this final track with the addition of just a few more subtle sounds and instruments…it's not just a great ending for the album; it's a complete confirmation of this band's ability to continually raise their game and create something new for you to experience and enjoy every time. Honestly, this last track blew my MIND with how charismatic it was…and this is music that has been nothing less than impressive the entire time. To end an experience as strong as this and somehow raise up their game even further here by the end with "The Lights…" I don't quite know what else I can tell you dear readers….
Young Pandas are clearly a force to be reckoned with and pretty much guaranteed to invade your ears and hearts; there's an astonishing amount of something-for-everyone to love here on Enigmas. It's music played with real passion, real dedication, real love of the craft – and you can hear it.
And the reason why you can hear it, is because they truly want to enjoy it WITH you.
Find out more from their official page at: http://www.weareyoungpandas.com/
Support them at Facebook: https://www.facebook.com/youngpandas
Follow them at Twitter: https://twitter.com/youngpandas
Jer@SBS – http://sleepingbagstudios.ca/