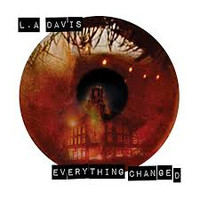 Singer/songwriter L.A. Davis was born in the bustle and commune of London's East End. His spirit and determination to succeed come from an overwhelming ability to understand life from a lesser advantaged view point. As a true 'Cockney' Londoner, he centers his lyrics right from the heart…. '….it really doesn't matter what a melody sounds like, if the words aren't true then listeners are less likely to buy into the ethic of a song.' he says.
Being raised and brought up in London proves to be a true inspiration for this artist, his gravely, yet smoky quality to his voice provides the key distinction between his musical counterpart's. On "Change," Davis is accompanies by great female backing vocals.
The CD starts with the title track Change(Nothing To lose), and it's an amazing piece of work with so much going for it I'm surprised I haven't heard it. I review a lot of pop and this has that great ring of familiarity to it, which is a testament to his songwriting. Track 2 is called 10 Round With Tyson, which seems to be about cheating, if I'm right. This is about as interesting as a song can get without losing itself. Davis surely knows what he's doing, also heavily applying that "Cockney" sound. Electro-pop never sounded better, as this keeps up with the best of 'em. I can imagine this on repeat at the club. It's over the top cool, as well as track 3, Set Me On Fire, if a bit less interesting. But I don't think being interesting is really the idea, to move people is. This is where music and dance-vehicle music meet 50/50. Does it work? Hell yes it does. It's both glossy and industrial, while also being wildly accessible at the same time. The songs move on with a lot of eclectic turns for better and worse, but mostly for the better. You can hear Justin Timberlake influences but Davis is an original if you ask me. He keeps up with any soul singer out there, and it's his time to shine on this modern masterpiece of sorts. I don't normally get into much more than a song or two of this type of music, but one of the things going on that keep me hooked is the horns, often sounding big, like Earth Wind & Fire. Soul and pop don't go together like this every day, it's an un-vouched thing. He goes beyond the weight of radio into clubs and even finds a classic appeal in there somewhere. There isn't a lot to complain about except for a lack of global press.
L.A Davis is good, no questioning that, it's only a matter of time before you know it too. The disc never loses speed anywhere, it just gets better as it goes, ending with the madness of 365, which is more organic than electro. It's a gut level closer which tops off a high end product.
REVERBNATION: http://www.reverbnation.com/ladavis
Cory Frye
Score: 4.5/10