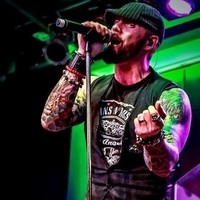 Maine native Christopher Giles' debut album, Finding My Way, is a strong entry in Christian contemporary circles. Terms like that tend to leave secular listeners wavering over an artist's personal appeal. A single listen to this album will dismiss any concerns. Giles astutely filters his spiritual message through every day language and resists any temptation to proselytize. His music carries a broader, more personal message and presented in a distinctly modern frame of reference. The production focuses on his vocals, but nothing gets short shrift, and the result is quite a cohesive work.
Albums rarely kick off with such hopeful, affirmative numbers like "I Wanna". Giles never hits his listeners in the head with a dogmatic or scriptural message – instead, the burning heart of this song and others addresses self-empowerment. The big guitars carry just enough bite to convey a strong rock and roll spirit, but they are not the centerpiece. The true center of this song, as in all others on the release, is the unabashed longing in Giles' voice. "Where Ever You Go" carries much of the same boundless spirit and it is reflected in energetic music that inspires the listener without ever overwhelming them. Giles has a powerful voice with surprising emotional range and shows tremendous sensitivity to his musical backing. The guitars are earnest, familiar, and avoid showboating that might otherwise distract from the song.
"Let Me Know", the album's first single, is a great representative of the work as a whole. It never fails to impress how each track confidently straddles a line between outright rock and softer, pop-influenced approaches. "Let Me Know" probably succeeds in tying these threads together in a more satisfying way. The counterpoint of Giles' vocal set against the five-star band cooking behind him has an unique chemistry lifting this track to another level. The slow acoustic simmer of "Back To You" is ready-made for AOR and Christian contemporary alike. The carefully arranged acoustic guitar shimmers while Giles delivers a gentle, unassuming croon that will quickly entrance all but the most jaded listeners.
"Gotta Live Today" is wonderful because it weds a tight pop bounce with palpable rock tension. In nearly all of the songs on Finding My Way, Giles and his backing band demonstrate themselves to be masters of the slow simmer and this song is no different. The chorus has a strong pop hook that will linger in the memory long after the song ends. "Living Strong" takes a much grittier line of attack than other songs on this release, but never obscures another round of Giles testifying on the inner strength guiding him through life. Giles proves with this song that he can summon the grit required to make these sort of excursion credible. The pop stylings of the album's closing track, "Start It Over", succeed thanks to strong playing but, primarily, due to another impressive vocal from Giles. His lyrics are strong throughout the album, but it will be well nigh impossible to notice how much his emotive phrasing elevates each one to the level of devotional poetry.
Christopher Giles is a welcome new voice in a field often crowded with generic, safe performers. What set him apart are his vocal ability and his unashamed embrace of the personal and the honesty in his presentation. Finding My Way is a strong indication that Christopher Giles is doing just that – making his way, gaining wisdom, and becoming a more powerful songwriter and performer by the year.
4.5/5 Stars
FACEBOOK: https://www.facebook.com/ChristopherGilesMusic
Lydia Hillenburg