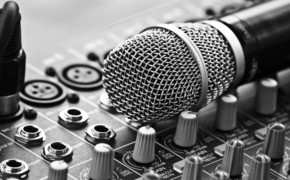 As the arts have seen a resurgence of support in the 21st century, many individuals are considering a job in one of these fulfilling fields. Those who want to work in music must consider their specific industry and goals, but some common elements do exist.
Specific Field
When you're starting to explore the path you'll need to take for your dream career, you must research the requirements of that field. For example, if you want to work as an adjunct instructor at a college, you are likely going to need a master's of music education. If you wish to sing in operas, you'll have to go through a voice program. Find out what specific skills and training are needed for your dream job.
Professional Lessons
Some people teach themselves to play the guitar alone or are born with a singing voice that rivals the top stars of today. In general, however, people need to obtain professional lessons to polish their skills. Even the most accomplished singers, guitarists and more can benefit from professional lessons.
The Ability to Read Music
No matter how strong your skills are, if you lack the ability to read musical notes, you are going to have a great degree of difficulty finding a job. Some people have been able to do it, but you can't bank on being the next musical genius, so start spending some time hitting the books. No matter what type of career you want in music, this is important.
Degree in a Music-Related Field
Perhaps you are interested in working in music, but you do not yet know which field you would like to pursue. Obtaining a degree in a music-related field is advisable. Getting a Master of Music Education can help you refine your skills and enhance your career if you are interested in teaching. Even if you have a creative skill-set prior to entering college, or a conservatory, potential employers will likely want to see that you have the degree to match with it.
Practical Experience
The field of music is a very hands-on one, so you want to work on obtaining actual experience as a performer, coach, teacher, instructor and so forth. You might audition for a role in the school musical, or you may find out about offering piano lessons to younger students in the neighborhood. Actually working in the field is a crucial skill to have.
Working with a Coach/Adviser
Building connections is so important in the field of music, and having a mentor can help you to do that. When you work with a mentor, that person can support you through your musical endeavors, help you to sharpen your skills and encourage you to pursue opportunities that match up with your skill-set.
Before you do anything else, determine which field you want to work in so that you can craft a plan tailored to your needs. If you don't know, speak with a college adviser about the best route to take for multiple possibilities.