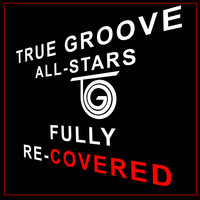 True Groove All-Stars gives a new twist to the old classics. Stretched out mellow covers tap into the calm of each original song. Usually these grooves verge on the dreamy, as the pieces themselves highlight their unique approach. Vocal delivery seems to come from far away and are rather airy in terms of delivery. By picking some particularly tasteful songs to cover, they opt for the popular and the thoughtful.
"What's so funny bout peace love understanding" opens the album off on a strong note with a well-done Elvis Costello cover. One of the most enjoyable covers is the lounge jazz of Frankie Goes to Hollywood cover of "Relax". Pretty much known throughout the world as probably the embodiment of all things 80s, the True Groove All-Stars manage to find a new perspective in the song, no mean feat considering its enormous popularity. Not as far off in its origins is the elastic groove of "It's Not Unusual". Tom Jones is transformed into a late-night after party kind of song with a slinky bass line toning down the original fanfare considerably. Perfectly attuned to their devices is the sweetness of the Psychedelic Furs cover "Love My Way". Taking on an almost shoegaze approach is the ethereal work of "Hurt", whose grimy gray surroundings are in stark contrast to the rest of the album. Bringing things to a joyful close is "We're a winner".
"Fully Re-Covered" is a pitch perfect set of covers showcasing an original take on beloved classics.
https://www.facebook.com/TrueGrooveGlobalSoulMusic
http://www.truegroove.info/
Posted by Beach Sloth