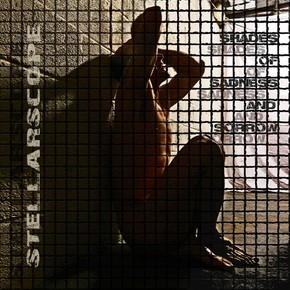 Hailing from the land of the famous Philly cheese steaks, Stellarscope is cookin' up their own style & sound as the band has been servin' up the goods for decades now. These Post-punk indie rockers add a side of Pop to the mix that in turn creates a brand of music that is sizzlin' with edginess and originality. From their early days as The Flow to a shattering CBGBs incident and then to current & beyond, you will hear about it all from Stellarscope. The group has a new album coming out soon titled 'Shades of Sadness and Sorrow' that is said to contain some of their their deepest lyrics to date and don't forget to catch Stellarscope on tour as they plan on hitting the road soon.
J Rae: So I see that Stellarscope was formed in Philadelphia where you guys are from and wondering how your sound & musical style meshes with the rest of the Philly music scene?
Stellarscope: Philly has a very eclectic and diverse music scene. The city has been a hot bed for artists since the 60s so every musical style is embraced. We are unique though, we don't sound like any of the other bands even within our genre. We believe it is because of the musical styles that have influenced us, how we write our music, and the way we perform it live.
J Rae: You guys pride yourselves as post-punk indie rockers with an alternative edge and a side of pop but curious as to how this all came to be where you guys originally said to yourselves this is the type of music we're gonna do and that's that. Why did you decide to go this route stylistically and was it a joint decision by the entire band?
Stellarscope: When the project was originally formed it was more so the psychedelic edge hinting on shoegaze (a term coined to identify noisy UK bands of the late 80s- early 90s like My Bloody Valentine, Ride, Slowdive, etc.) as the years progressed we kept getting more energetic with the sound, which is what we have today. Though our sound has matured and become more polished lately we always want to keep the punk ethos to our music.
J Rae: I couldn't help but notice you guys have been recording and playing music since the 90s which is really cool. What is the secret behind Stellarscope staying together for years now and are you just as passionate now about making music as you were back then when the band first started?
Stellarscope: The core of the band has always been Tom Lugo and Bob Forman. We have been graced by many great musicians that have come and gone throughout the years that have helped us mold the band to what we are today. Though older and wiser we are young at heart and that is what keeps us going. Rob DeFlaviis has been playing with the band for close to 10 years, he is a good friend and an amazing overall musician. Ed Neenan asked to join us almost a year ago, he is an excellent guitarist and a wonderful soul. Ed has several musical ventures of his own, E. Joseph is what you can find his music under.
"The Machines Must Die"
https://www.youtube.com/watch?v=j2hPtA3kkFw
J Rae: I have to ask since you're in Philly; is it true that your city has the best cheese steaks around? And if so where is the best place or places to enjoy one?
Stellarscope: Cheese steaks are a creation of our city, we have the best ones anywhere in the world. When tourists come to town we send them to Pat's and Gino's in the Italian market which both claim to be the creators of the famous cheese steak. The locals like Jim's on South Street but we just discovered a new place called First Street Steaks & Hoagies on Front Street, same block as Kung Fu Necktie, that by far has the best cheese steaks we have ever tasted. Their Filet Tip Cheese Steak is highly recommended.
J Rae: Stellarscope has played alongside a ton of bands over the years and wondering which groups/acts were your favorite to perform with and why? And do you get to hang out with any of these bands and if so what types of things do you like to do for fun or talk about?
Stellarscope: All of the bands we have performed with are friends of ours. The great majority of the tours, shows, and festivals that Stellarscope has been a part of have been organized by Tom. We don't want to offend any of our friends, since they are all great in their own right, but if we have to point out some of the bands that have gotten recognition we would say: A place to bury strangers, Aidan Connell, Screen Vinyl Image, The Vandelles, Un.Real, Resplandor, The One2s, Lorelle Meets the Obsolete, The Veldt, just to name a few.
J Rae: I also noticed that you guys have played many shows not just here in the U.S. but also in other countries. What have the experiences been like for Stellarscope playing near and abroad and any significant differences between the different cultures?
Stellarscope: Stellarscope has really only done most of their touring in the USA and Canada but playing outside of the country is something we are looking forward to. Tom with his solo project Panophonic has played in other countries.
J Rae: What is the craziest thing you've ever witnessed while playing a show somewhere and how did you all react to it?
Stellarscope: fights, people dancing like lunatics, people collapsing, girls going topless, but I think the most memorable one was playing CBGBs when a drunk guy in the audience was throwing broken glass at Tom while he was performing because he wanted to get his attention, man we miss that place.
J Rae: Your music has appeared in many compilations, tribute albums and documentaries as well as appearing on MTV, A&E, Discovery Channel, Alli Sports TV and more. Would you mind telling the Skope readers a little background on all of these exciting opportunities that happened for you and how did these opportunities come about to begin with?
Stellarscope: We have been fortunate to have our music placed on a variety of shows and documentaries. It has always happened through direct contact from the parties involved, we never sought out the opportunities. They have either heard the band, heard of the band, or someone recommended the band to them.
J Rae: How did the band name Stellarscope come about and what does it mean to each band member?
Stellarscope: The band was initially called "The Flow" and we decided to change the name… the band members at the time chose Stellar Scope, stellar since we were doing psychedelic music and scope as a way to view said music.
J Rae: Your most recent album, 'The End is Near, I'm not prepared', was released in March of last year and wanted to know what went into the making of this record and how has the response been thus far? Also, do you really feel the end is near and are you not prepared if it is? And how would you be prepared for the end and how should one prepare him or herself for such a thing?
Stellarscope: 'The end is near. I'm not prepared' was recorded by Tom and Bob with the idea of creating an 80s sounding album with modern flavor. The underlying theme of the album is all 'tongue in cheek'. We sing about the space age, intelligent machines, cataclysmic events, hell, zombies, and more based on what is popular in our culture.
We have garnered a lot of attention with this release, which we are very appreciative of.
We don't fear the end, the end has been near since the earth formed millions of years ago. Every minute is just another click closer to our eminent end. Here we go again with the doom and gloom. LOL
J Rae: I was told by Tom Lugo that Stellarscope is working on a new album set to be released this Spring, which is exciting news for sure! Can you tell us anything about how the album is coming along and what can listeners expect from this record? Also, anything else in the works for 2015 that you'd care to share with all of the Skope viewers out there?
Stellarscope: Our new album is titled "Shades of Sadness and Sorrow". It is currently being mastered and should be available very soon. On this album we took a different approach to the song structure and the lyrical content. The lyrics come from a far deeper place than any of the other albums, the sound is cleaner, and more refined. In a way it is what you would expect from our band but in a more accessible way that would broaden our audience.
We were also currently featured on a massive international compilation titled "Revolution: The Shoegaze Revival" on Ear to Ear Records (UK) & Gerpfast Kolektif (Indonesia) featuring 30 bands from all world of the likes of Puna, Ummagma, Jaguwar, Robsongs, Rev Rev Rev, Stella Diana, Slow Motion Picture, Lights that Change, Clustersun, and many more. These are some of the best shoegaze underground artists in the scene and deserve to be heard.
We have plans of doing some touring this year to support the release, recording some videos, and start recording again later on this year. We would like to thank you for the time to interview us, for the support SKope Magazine has provided us, and we wish you all much success!
-Tom and Bob – Stellarscope
http://stellarscopeband.com/
https://www.facebook.com/pages/Stellarscope/42638364841
https://soundcloud.com/stellarscope
https://pateticorecordings.bandcamp.com/album/the-end-is-near-im-not-prepared
By Jimmy Rae (jrae2@att.net)