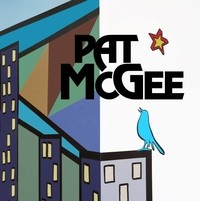 Pat McGee's self-titled record, his 10th effort is a doozie. Recorded in Los Angeles in 2014, with a legendary band: Russ Kunkel, Leland Sklar, Waddy Wachtel, Danny Kortchmar, Jeff Pevar and guests: Little Feat's Paul Barrere, Blues Traveler's John Popper, Train's Pat Monahan, Punchbrother's Gabe Witcher as well as the PMB powerhouse players!
To land this incredible band, dubbed The Section, for these sessions was truly amazing and you can hear the passion and creativity on each track. These are the same players who helped create the signature sounds of Jackson Browne, James Taylor and so many more iconic artists.
The album kicks in with Bad Idea, and it's a solid lead off into what just seems to get better as it goes. His vocals are a bit all over the place on this one, but on track 2, Overboard, he makes up for it with an impressive backdrop. The song just edges the previous one in most ways, but they carry the same essential weight. Then some Indian influence starts track 4, Four Door Dynamo, and the disc takes off from there with some well-crafted magic to be found all over it. This track in particular has everything, it's soulful, it rocks, it's thought provokingly delivered. I could use ten of these, but McGee has much more up his sleeve with a searing love song called Caroline, which contains folk, pop, country, easy listening, etc… and this is where the album peaks for me, and starts to take on a more serious approach. This is not to say it isn't a welcomed one, as the songs never fail to inspire, it's just a hard one to follow in its overall beautiful familiarity.
When Did Everything Go Wrong, is another high mark, followed by the next track, When It Hurts, with its most playful point of all. Anyone would love the guitar track on this, as well as McGee's story like format with a nice piano. These are all great songs, the cover is cool and it comes in vinyl to top it all off. The strings pick up on Kite String, no pun intended, this is another gem in the classic ballad vein, describing all underneath a colorful sky. It's all so smooth but rocky it's like a perfect combo.
Most of the songs here work well together but a couple swim against the tide for contrast. McGee is a great songwriter who's perhaps packed a little too much into this one release to absorb in one sitting, so take your time with this album and will do the business. But whatever you do, it's worth forking over for, with tracks like Trial By Fire and Rhode Island, to drive your ears all the way home.
Cory Frye
URL: http://patmcgee.net/
Score: 7/10