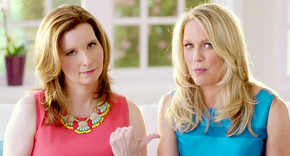 Strong female leads are more popular now than ever. Stars like Tina Fey and her hit TV show 30 Rock and Amy Poehler and her show Parks and Recreation (which has just entered its final season), have paved the way for strong female leads in comedy and drama. Gone are the days of Magnum PI when women were just for show and a juicy plotline.
Playing House
Real-life best friends Lennon Parham and Jessica St. Clair star in this screwball comedy about two women about to raise a baby together. The duo, who launched the fan-favorite but ultimately under-promoted NBC show, Best Friends Forever, return with two characters, based on their real-life chemistry. She show also revives Malcom in the Middle mom, Jane Kaczmarek as St. Clair's on-screen mom. While the two are not trying to raise issues on lesbian households, they seek to talk about alternative types of families in a modern-day world.
Agent Carter
With the barrage of superhero TV shows hitting the small screen this year, the only one with a woman in the driver's seat is Agent Carter. Based on the Marvel comic book of the same name, Agent Carter stars Hayley Atwell as Peggy Carter, a private detective hired by billionaire Howard Stark. Stark has been accused of treason, and Carter is the only one he can trust to clear his name. Not only does this woman deal with real-life issues (like pesky roommates), she also kicks some major butt. Proving that women are capable in the workforce has driven up University of Florida communication degrees and more enrollment in universities all over the U. S.
Transparent
Not just women are represented in this Amazon Instant Original—transgendered women play a huge role in the breakout 2014 smash hit. The cast is spearheaded by Jeffrey Tambor, who plays a family patriarch, who has decided to finally come out of the closet as a transgendered woman. Though Tambor's performance is emotionally charged, it is the female actors that make the biggest splash. Tambor's ex-wife is played by Who's the Boss? alumn, Judith Light, his daughter by child star, Gabby Hoffman, and his eldest daughter is played by Amy Landecker. The show raises questions about gender equality and boundaries between genders.
Jane the Virgin
Finally, virgins are cool again! Gina Rodriguez stars as this CW's series heroine who makes waiting until marriage en vogue again. The show, modeled after a typical telenovela, follows Jane, a girl who always planned on waiting until she got a ring on it before taking part in the pleasures of the flesh. Things go awry when she heads to her OBGYN for an annual gynecological exam, and ends up accidentally getting artificially inseminated instead. The female ensemble includes Jane's mom, Xiomara (played by Andrea Navedo), Jane's grandmother (played by Ivonne Coll), and Jane's nemesis, Petra (played by Yael Grobglas).
With so many strong, female characters and equally strong female actresses giving voice to these fictional role models, it's no wonder TV ratings are soaring higher than ever.