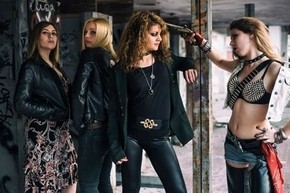 "Suicide", single + video of Sin Of Night, all-female hard rock band from Italy, is out today by Agoge Records and is available now.
"Sin of Night" is a female original Hard Rock band formed in Rome in the autumn of 2012, from an idea of the singer Aivil and the guitarist Julie. After several searches for the members, firstly the Bass player Electra and then the drummer Noemi joined the band, bringing both in the reharsals room and on stage teamwork and musical harmony, combined with the great desire to play and the shared passion for music.
During the year 2013 the band has been playing live in some of the best known venues in Rome like Init club, Traffic, Jailbreak and Crossroads.
In May 2014 is signed a contract with the label Agoge Records, in collaboration with the producer Gianmarco Bellumori.
https://www.youtube.com/watch?v=E9jpBr9VqPA