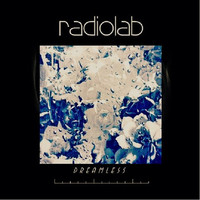 Radiolab's "Dreamless" possesses a truly ethereal quality. Samples filter their way through the gauzy, shoegaze-inspired sounds. Then there are the vocals which have an airy quality to them almost appearing to float above the rest of the mix. Guitar work is delicate nimble work that reaches the right balance between that of simplicity and transcendence. Pieces of the work recall the best of early 90s rock when bands opted for spacious sounds rather than loud sounds. "Dreamless" additionally uses the synthesizer to great effect, letting the light touch help emphasize the overall moodiness.
Stream @ http://radiolab.bandcamp.com
"who you are" begins with a muffled sample which leads into the overall hazy mood of the piece. For a moment it shifts purely into synthesizer work before the song once more bursts forth with energy. On "distances" Radiolab continues to explore mellow impulses, this time with active percussive elements as it moves into A Sunny Day in Glasgow territory. By far the highlight of the album it also works well with both its sung and spoken word sections. Acoustic guitar appears on the folksy work of "sail to the stars". Here Radiolab move into intimate direct territory, reducing the distance between themselves and the listener. The aptly named "summer haze" has a bright optimistic tone behind it. For "tongue tied" Radiolab's work gets particularly tender as the guitar work neatly matches the longing feeling from the lyrics.
Ending things off on a sensual note is the hushed tone of "whisper". "Dreamless" gives homage to the best of early 90s shoegaze.
http://www.facebook.com/radiolabmusic
Posted by Beach Sloth – http://beachsloth.blogspot.com/