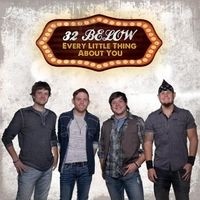 It seems to me that this set feels a little desperate. It moves from one cliché and generic pop sound to another. When it works best is when it stretches a bit beyond that.
Too much like by-the-numbers pop, the first song ("You, Me, and the Whiskey") doesn't work well. That is, except for the guitar solo. That has an almost 90s rock vibe. They turn it more country, but also more predictable on the title track. I don't really like it.
I can actually make out a bit of punk energy on "Songs on the Radio." It's an awesome rocker with some country in the mix. I like the hard rocking energy that lies beneath "We Were Young." It has almost an 80s vibe to it in some ways. Yes, the vocals and other layers on the top bring it into country territory, but it works.
I like the guitar sound on "Cheers to this Bar." It's more of a rocking mode. The song itself is a little too lightweight, though. I don't really like "Someone New" at all. It's just too much over-done pop country.
Like "We Were Young," "Drink for You" seems to have some 80s rock built into it. They add in modern country pop to fill out the rest. I'd like it a little less "poppy," but this works pretty well. I like the party music concept of "What Did We Do Last Night." The country is a little over the top for my tastes, though.
Somehow "That Summer Night" is better. It's still got a lot of country built into it. It just happens to be so infectious that it doesn't matter. They saved one of the best for last. The rocker entitled "Raise It Up" is fun.
I'd have to say that my lack of interest in pop music and country probably colors my opinion of this. It's not that I dislike either type of music completely. It's just that I have to be dragged kicking and screaming into liking that kind of stuff. It has to be exceptional music to pull it off. That said, there are some strong songs here.
CD BABY: http://www.cdbaby.com/cd/32below5
URL: http://32below.net/
Brian White
7/10 stars