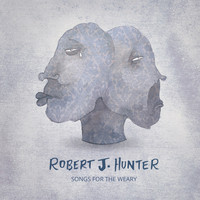 Robert J. Hunter delivers a high energy, gruff, performance of dirty blues. RJH's debut single, "Demons" is out now and has reached number one in the UK iTunes Blues Chart. His debut album, "Songs for the Weary" is out 10th February 2015. Heavily influenced by Peter Green, Tom Waits and The Doors to name a few, RJH is no stranger to the stage, performing in bands since he was 14 in Alderney, Channel Islands where he was born. RJH signed to Spectra Records in December 2013 having previously supported acts such as Wilko Johnson, Josh Kumra and Hey Moon Shaker. All written above is true, and there isn't a lot else to go off being new to Hunter, but man is he good. He's with the Spectra Group and on his way to bigger things with this latest release of outstanding material.
The first thing that comes to mind when I hear this voice, is where has he been all my life? Yes, I'm a fan of the Tom Waits vocal sound(if you like him you will not be able to deny this), and that isn't to say he's otherwise anything like his, as he sticks to traditional and even contemporary blues to his credit. The gruff crooner in him is just the icing on the cake, as these are all fantastic songs which go the distance in establishing his capability to shine in a brighter light. The only band I've heard in years that sound like this are The Black Tongued Bells, from L.A., but this is on another level.
The CD starts well with the sound of Turning, which is a nicely haunting way to begin the masterclass. This is a great opener but it travels by a little too quickly, if to say anything negative about it. The vocals just can't be ignored, but the lyrics are equally unique. Next up is the title track, in which a whole different thing kicks in with a big sing and shout along factor throughout it that is so contagious you swear you've heard it somewhere before, and who knows, maybe you have, but that is of little significance compared to how vital this song is, we're talking epic! Man alive this is killer, as Hunter keeps his "demons on a leash," and proceeds to compliment the likes of Dylan (The Band), Waits and others, including more contemporary artists it tends to resemble.
All that and it's one of the most original things I've ever heard. I could say it's over but it's not, it's only just starting, as he treats the ears to excellent tunes from the spine chilling playfulness of Sleepless, which tips a nod to Chris Rhea, to the haunting majesty of Nightmares (with its hat purposely tipped to Dylan himself) Then we get the heavy spirit of Witches & Wolves to the brutal honesty of Truce, Flaws, and See You In Hell. All of this making for one amazing release with a vocal performance worthy of the greats of the past, from an artist this writer will be all over now that he knows about it. Hunter is a blues throwback of vital proportions, so go out and buy a copy or the Demon inside might just get ya, especially if you opt for a download, as this was meant to be held in hand while examining from beginning to end. I would gladly thank him personally for existing.
https://www.facebook.com/robertjhuntermusic
10/10
Larry Toering