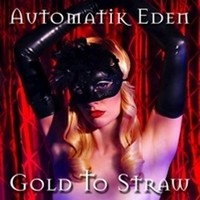 Composer, David Crocco (vocals, guitar, bass, drums) and fellow singer, songwriter and guitarist, Cela Scott of Automatik Eden are making all kinds of noise of the sensational audio variety. David's post-production engineering skills have been in demand for a while now, having worked with a plethora of contemporary music icons, in various genres. Performers include everyone from Dr. Dre and Busta Rhymes to Nickelback and System Of A Down…not an easy feat.
There are some ups and downs to be considered on this EP, the first being that is is exactly that, only an EP. Lovers of this type of thing could use a minimum of 20 tracks of this caliber of EDM and at least ten in the rock arena. There is plenty of industrial madness going on from one end of the spectrum to the other. The next thing would be not enough rock for which it begs, as it's clearly capable of containing and I would like to see them go that way, it's too present not to. But it's not all candy pop or anything either, by any means. It contains a dark and sensually provocative side that could take them more in the former direction, which could mean less rocking in their future, but this is one writer who hopes not. Stand out tracks for me are Gold To Straw, with its wicked groove, and The Agency, with its more electronic but nevertheless incendiary sound. The last downside is it contains some remixes of which are hard to distinct if you don't know them or the DJ's who remixed them, leaving them with more to offer the EDM factor which is vastly more limiting.
All influences are strongly felt on this release but never copied, and they give them all a clear run for their money, but if only they had more songs to offer at this point. They could go a lot further than the indie EDM and rock scene, in fact they could be on world stages.
2/5 Stars
John O'Flaherty