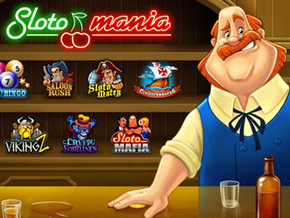 Slotomania by Playtika LTD is a free slots app that features over 55 different video slots games. Get ready for an immersive gaming experience.
Play Slotomania and see what all the buzz is about!
There are thousands of different mobile apps out there with a wide range of functions and themes. Some of the most popular apps are mobile slots and casino apps. Among those, Slotomania is arguably one of the most popular. This social slots game was developed by Playtika and best of all it's free to play. All you need to get started are a handful of virtual coins. You'll use these to place your wagers in Slotomania. In addition, all of your winnings are paid out in virtual coins as you progress through the game.You can certainly buy more virtual coins with real money but it's not necessary to do so.
Slotomania has a variety of different games that you can sink your teeth into. All the games sport different features, bonus games, themes, etc. Some of the most exciting titles available with this free slots app are Secret Unicorn, Gorilla Gems and Brewfest. This free slots app offers Vegas-style video slots games but it also has a wide range of unique features that are not available on traditional slots games.
For example, you can gain experience and level up just by playing the games. This feature resembles that of a video or PC game and as you increase your level, additional games will be unlocked and made available to you. This game also has a number of social features that encourage you and you friends to play together. When you're playing Slotomania, you can send invites to your friends, view the leaderboard to see who is ahead, and even send gifts. Slotomania regularly hosts tournaments that give you a chance to compete against other players. During these tournaments, you simply need to play the featured games and if you end as one of the top players at the end of the tournament you will receive a prize. All in all, Slotomania is definitely a high quality free video slots app.