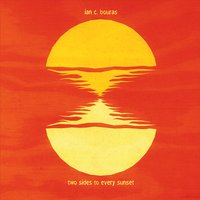 DIY / Homemade guitar loop composer from New York, Ian C. Bouras just released his latest 6 Track release entitled: "Two Sides to Every Sunset." Ian produced, played guitar, bass, and mixed AñaVañA's second release entitled "R*U*B" (2005), which was called: "Sophisticated and musically brilliant… a magnetic hybrid of music… a refreshing 2nd full length record… a distinct sound-from shy to outright strident" — RACHEL ROKICKI (The Deli Magazine). His first solo release on SDMP Records, entitled "A Cure For Reality" (2007), has Ian producing, playing guitar, keys, bass, programming drums, and mixing, and earned him attention from music fans and critics alike: "A surprisingly unique and fresh sound.
Artists like this are responsible for the evolution of musical genres. — Blips and Beeps. With this CD expect soul-stirring vocals and at times hypnotic alternative jazz-crossover and electronic style music. Straight away it's clear to me these 6 tracks are an imaginative return to rich guitar based instrumentals laced sometimes powerful song writing fused with the better musical touches of today new age jazz. Bouras at times reminds me of John Zorn, Pete Namlook, Scorn and
Tabla Beat Science but is extremely hard to classify. He really reminded me at times of a more cutting edge version of Pole. Today's music has many people feeling of bit of soullessness – how appropriate I get a CD by an artist like Bouras who again refuses to be pinned down too quickly. Which is a real and welcomed jolt to the senses – in a good way. Finally music that is not boring and extremely predictable. The album begins in progressive fashion with the magnificent The Light That Swims In the Darkness (A Bird's Tale) and mind numbing "This Lonely Life (A Farewell to Love) two brilliant exercises in self reflection laden with a hooky vibe and impressive feel. His music transferred well into my own world. The only surprise is that one of these 6 pieces wasn't hand picked up by Satellite Radio, as they are radio friendly of the highest order. Perhaps they are on there right now I'm just not aware of them. All pieces are journeys through a guitar-soaked passion play within Bourass' brilliant artistic psyche speaking through the guitar. All tracks are sure to get some folks fired up to start a musical revolution. Regarding Volution – Reconstruction showcases more of the same song writing virtuoso but also along the way some impressive Reggae-type fretwork. Bouras is a good guitarists and from what I've read he's a professional level musical engineer.
In the end Ian C. Bouras is a real breath of fresh air compared to what's out there right now. Like I had mentioned earlier "Two Sides to Every Sunset" is a real shock to everyday musical system presently in place. Out of the whole album, 6 songs are in the category of brilliant, 6 of them are good, and there are none I find myself wanting to skip in rotation. I wouldn't be surprised to see Ina C. Bouras popularity continues to grow, as it did in my own household during the week.
Label: SDM Records
URL: http://www.sdmprecords.com/sdmphome.html
Rating 4/5 Stars
Aaron Seipel