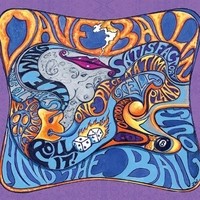 How shall I sum up the sound of Dave Bailin & the Bailouts for you? How about kind of ground breaking? While actually sounding like he's not so over produced like some of the more modern sounding artists out there like John Maher, Bailin manages to capture a sound that is old yet surprisingly fresh all at the same time. Trust me when I say there are legions of old school rock fans waiting for this guy to arrive. Many of these retro tracks sounding surprisingly innovative, which makes up for their somewhat dated influences. From track 1-3 (Satisfactory), (Tell), and (Safe to Say) the album decides to trend towards amazing and serves up 9 sizzling tracks in all. All songs will get your blood pumping. All songs will cause you to reflect on your own life experience through the keen wisdom of Bailin's lyrics. The musicianship from all involved is world class.
Band members include: Dave Bailin (Guitar, Harmonica), Eric Reardon (Lead Guitarist), Steve Peabody (Drums), Steve "The Bullet" Burke (Bass). In the spirit of musical justice (as I find is severely lacking these days), I gave this latest CD from Salem Massachusetts good and proper listen and not only did I not hate it, but I actually kind of fell in love with it, and subsequently The band in the process. The music therein is a bit more Past-Rock than Modern-Rock so it's not lackluster as I was expecting. I can hear influences ranging from Delbert McClinton, Gregg Allman, Anders Osborne and New Riders of the Purple Sage. Maybe even The Rees Shad Band and David Wilcox. Most of the music is straight up Bluesy-Funk but much of it contains remnants of classic singer/songwriter. It delivers solid intro's and outros, good playing and chops and much in the way of musical angulation. The lyrics aren't as annoying or sickly as I thought they would be. Vocals and Harp by Bailin are shall I say saucy as he commands a powerful low tonal registry all the while maintaining impressive vocal mojo and control. Vocally he reminds me of Mick Jagger and Chris Robinson (Black Crows). He really knows how to find the pocket and let loose behind the microphone. Dave Bailin & the Bailouts meld and blends all of the above together in a starkly unique way. The end result? A new sound with an old classic rocking blues feel.
There are 3 things I really like about Dave Bailin & The Bailouts. For one I didn't want to shoot myself with my pen like I do with most bands from the East Coast lately. No worries there. Two: this CD may be the most good timing CD's I've heard this year. Third: Dave Bailin and his slew of players have the courage to write and play music the way they want to. A far cry from the "sell out" corporate puppet show bands the masses are scratching their heads at right now. Whereas 90% of the bands could care less about this approach as they just want to make labels happy. This is one of the most important attributes for me when reviewing music.
Bailin needs to modernize his sound a little though. The mix works for a swampy blues CD but as a result sounds a bit dated and lackluster. A new cutting edge mixer should be able to remind this.
http://www.davebailin.com/gig/
Buy on I-TUNES – https://itunes.apple.com/us/album/dave-bailin-bailouts-studio/id945699811
Andrew Stewart