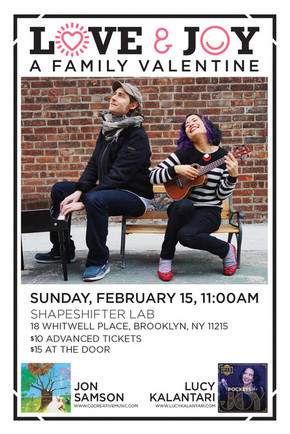 Award winning children's artist and music therapist, Jon Samson, has teamed up with Lucy Kalantari to deliver a rare and enchanting musical performance for families at ShapeShifter Lab in Brooklyn, NY, February 15th at 11:00 am – Love & Joy: A Family Valentine.
"[Jon Samson] will get little heads bopping without alienating grown-up listeners." –Timeout NY Kids
Jon Samson, two-time ISC winner and NAPPA award winning artist, has moved the kindie community with his latest release, A New Kids Album. Featured in Time Magazine's TFK Family Edition, A New Kids Album is a selection of original and familiar stories with an abundantly rich sound and an ingenious delivery that quickly becomes an addictive treat for children and adults alike.
"The best jazz album of the year brings forth the roaring 20′s with no prohibition on juice boxes." –Jeff Bogle, Cooper & Kid
Lucy Kalantari's newest release, Pockets Full of Joy, has been making some noise. Earning a spot in The Best Kids Music of 2014 by Cooper & Kid, Pockets is a collection of ukulele ditties with a 1920s flair about being a mom, love and babies. Her sound is sophisticated for adults and irresistible to babies. She'll perform with her full lineup of drums, upright bass and clarinet.
ShapeShifter Lab is a large, open space perfect for listeners of all ages to enjoy the fun sounds of these two dynamic performances while dancing about. Enjoy hot cocoa, valentine's treats and a chance to win an autographed ukulele!
For tickets: http://www.brownpapertickets.com/event/1128853
Love & Joy: A Family Valentine
Sunday, February 15th
ShapeShifter Lab
18 Whitwell Place, Brooklyn, NY 11215
$10 advanced tickets
$15 at the door
(Free for children under 2)
Doors: 11am
Show Time: 11:30am
Lucy Kalantari – www.LucyKalantari.com
Jon Samson – www.CoCreativeMusic.com