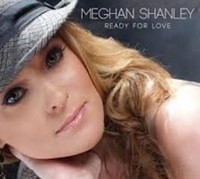 Former winner of the Miss Virginia title, Meghan Shanley made the move from her home state of Virginia to Nashville to follow her musical passion. She achieved high acclaim once she got there with appearances at the venerable Ryman Auditorium and an appearance on Food Network performing her song "Here" at TV personality Paula Deen's wedding reception. Although her style was rooted in country music, Shanley wanted to pursue a different style that blends the likes of Billie Holiday, Ella Fitzgerald and Nina Simone in a more contemporary. Shanley's bio states that her music defies genre and that's somewhat true – there are many influences in this album but it really feels like soul is at its heart, a modern take on Motown.
The CD kicks off with the title track "Ready for Love." The brass section in the intro hints at a little bit of Earth Wind and Fire right away and then the groove really delivers. Shanley's voice shines, it's soulful and strong and the track makes the listener start to move to the groove right away. The next track "One Day" also channels a bit of old Motown, well written, another sweet groove with excellent bass work driving the tune. "Synergy" again dials in bit of a retro vibe, think 70s but a bit more "wet" sounding like some 80s reverb got in there with a fugitive from the 60s wall of sound too. Shanley delivers another great vocal performance here supported by production that brings in some strings and crunchy guitars as it builds toward the finale of the song. "Break My Heart" is a well-composed ballad built around showcasing Shanley's impassioned vocals supported by piano and acoustic guitar. I honestly would have liked to hear this track develop a bit more and build with some more dimension but it sits as a nice contrast track for the album at this point. "Never Will" channels another laid-back groove and Shanley returns to the soul formula that's working well for the album. Some tasteful rhythm guitar work highlights this track and I particularly like the chord change up towards the last 3rd of the song. "Better Left Unsaid" is a ballad in the vein of Kelly Clarkson's "The Trouble With Love Is" although it doesn't quite reach those heights. "Mysterious" mixes some 80s synth/guitar lines reminiscent of a certain song by the band Yes. The combination of the synth lines and horn section later make it hard to decide which era it belongs in. "Shake It" adds hip-hop elements mixed with a 70s groove and yep, there's some nice wah wah on the guitar too. This is a fun track, I'd have loved to hear a bit of stronger melodic hook with the vocals however. "Without You" slows things down and Shanley once again shows off her passionate voice, the listener here particularly can feel her emotions. The production is a little more understated here and that works well to allow more focus on the vocals. The closing track, "Smile" definitely harkens to a torch-singer vibe based around Shanley's clear, emotive voice supported only by piano (and a bit of harmonica, almost a nod to Stevie Wonder).
Meghan Shanley has an impressive, full and passionate voice. The grooves on a few tracks really had me moving at times, great stuff. The production is very impressive as well, almost too much in some spots. There's a lot going on in some of the tracks and I find myself looking for some stronger hooks here and there, especially with the vocal melodies. There's a good amount of variety on this album but it lacks some dynamic range. Shanley's voice is leveled out on every track, and even the quieter ballads come across as loud and proud as the full-band groove tracks. Compression on her voice is apparent on "Smile" and I wish it had been left in a more dynamic and raw state to support the torch singer feel more. The bass work is notable within the production but also forward and busy in the mix at times but the musicianship and programming is excellent throughout.
I'd love to hear Shanley do another album like this with a looser, more organic approach. A stripped-down version of some of these songs would be a treat. That's not to say this album isn't well-done, it's very well-conceived and the songs are keenly composed and produced. The title track really shines. The rest of the album is very good but the hooks don't quite reach the level of "Ready for Love." Fans of 70s soul and Motown with an ear towards more contemporary production will love this album. I'll definitely be listening and some of these tracks will join my R&B and groove playlists.
Website: http://meghanshanley.com
Notable Songs: "Ready for Love", "One Day", "Better Left Unsaid", "Smile"
-JD Stefan