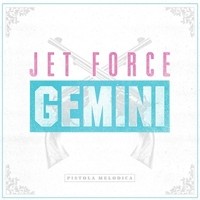 I can only imagine how I would have reacted to this album during my high-school years…this was right where I was at; high-energy music that pounded with a furious pulse, big hooks and bigger choruses. I still react well to this genre when I hear it done well like it is here with Jet Force Gemini, though mind you that sound has become a little more modern over time as the grey hairs in my beard reveal themselves just a little more each day.
After they introduce you to their brand of rock right from the beginning with "Gunstars," you definitely get the sense that this is a band with something to prove. Echoing the energy, sound and harmonies of bands popular in the modern-rock genres like Panic! At The Disco, or perhaps even Fall Out Boy, their brand of hook-laden pop-rock reveals itself more as the album plays on into "Catalyst," and "New Disco Era," two single-worthy rock songs with high energy and high-octane performances.
Between the harmonies and shredding-rock anthems, this three-piece band makes an impressive mark for themselves on tracks like "Love.Demolition," and "Venom" as they keep their energy and your interest up throughout the middle of the album. The vocals stay consistent and well delivered each track, and overall this album, Pistola Melodica is a real passionate display of three guys giving every ounce of their sweat to their craft. There are excellent switches from where you'll find singers Roman Bilko and Michael Christopher trading solo-spots quickly for all-inclusive chants and big choruses that you can easily imagine audiences taking part in as the music takes them over.
It's the inclusion of melody that really makes Jet Force Gemini a winner. No matter how extreme the rock might get at times, it still nestles nicely into a pop-rock-infused groove with a steady focus on making catchy songs that people can sing along to. "What It Means," is one of the largest examples of that as they really hit a stadium-style stride in this track; it's huge and absolutely guaranteed to hook in the crowd.
Where I found this album got extremely interesting was towards the end when they bust out a piano-intro and a slowed down jam in a song called "Skyline." It's here where you can tell what an emphasis on clear, melodic vocals this genre and this band have latched onto…which, if you were to ask me, is always a welcome thing. The singing on this track is golden. They'll more than likely hate me for this comment, but here is a track where you can hear how the melodic tones of 90's pop from bands like Savage Garden or artists like Michael Jackson have crept into the rock genre. Again, I think it's a verifiably cool sound that works well in the rock genre…but when you think of the rock-genres giants, it's usually more about explosion that it can be about tone and focus. I dig the different elements of Jet Force Gemini and think they work really well together as one. "Skyline," is a track so good I found myself wishing for a few more in that similar vein on this album.
And then "Hurricane" hits the chorus and I've nearly forgotten what I wanted a second ago. As the album winds itself down, this track thunders along with a relentless energy, including an absolutely killer solo from Bilko, who easily demonstrates that getting here was much more than a simple fluke. That's the sound of a well-practiced musician who plays with extraordinary conviction.
The entire band fires on all-cylinders in the final track "Sunset Soldiers," as they bring forth yet another palette of hooks for you to sing along and enjoy. They've done an impressive amount of things completely well here on Pistola Melodica – if you're looking for a high-energy album that will drive you from point A to B in what feels like mere minutes and seconds, this is the album that will get you home in the blink of an eye. There's energy, melody and a ton of passion on display here.
Listen to their album through Reverb nation here: http://www.reverbnation.com/jetforcegemini/album/86539-pistola-melodica
Website: www.jetforcemusic.com
Facebook: https://www.facebook.com/JetForceMusic
Twitter: https://twitter.com/JetForceMusic
Jer@SBS – http://sleepingbagstudios.ca/