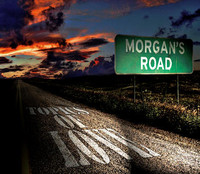 5 Piece Rock Band "Morgan's Road" has a new fusionist sound to me. This latest 15 Track epic release "Topics of Love" captures the energy and foundations of this new sound. This new style of music has hooky vocals, thumpy beats, crunchy guitar, and heavy bass lines that will make you dance, sing, and beg for more. What's more these lads have been compared to The Red Hot Chili Peppers, The Dave Mathews Band. With a growing reputation as one of the hottest up and coming bands in that area, Morgan's Road questions tradition and offers listeners a glimpse into the future of Rock 'n' Roll Music. Band was recently signed to Spectra records.
The band is based in historic and culturally rich Charleston, SC – known to many as "The Holy City Of The South". Charleston has a wealth of great musicians, artists, clubs, and nightlife, and Morgan's Road fits right in by writing and performing songs that provide a glimpse into life in a traditionally southern, yet modern and cosmopolitan city. The band routinely makes appearances at clubs and events all around the southeast, and has played favorite local venues like The Music Farm and The Windjammer in Charleston, SC. They have opened up for several popular artists, including up and coming country rock stars Colt Ford and Lee Brice, as well as 90s pop superstars Hootie & the Blowfish.
At first none of this made any sense to me as I listened armed with an open mind and an open beer. By track 3 I was freaking sold! This music captures the essence of boldly honest sarcasm so perfectly or in the case of these 5 Ben Woodruff – Vocals/Acoustic Guitar, Tyler Perry – Drums/Vocals, Cameron Allen – Guitar/Vocals, Matt Chmielecki – Bass, Justin Banks – Keyboard/Percussion delivered quite effortlessly. With a list of artistic and professional achievements as long as my arm I suspect these guys are not really new at this. In fact it's quite clear to me that this East Coast based 5-some is not only experienced, they also know exactly what they're doing here. In music, breaking rules and challenging conventional wisdom are often deliberate efforts to establish a marketing niche, but for Morgan's Road they're a natural state of mind and being. These 5 are guilty as charged – by violating the modern requirement by adding in whacked out vocals and some thick solo guitar. What the hell right? OK why not! Like most good rock music this CD provides instant gratification. At times casting you adrift on a peaceful sea of emotion, other times awry in happy thoughts, sometimes displaying a dry sense of humor. Whatever the case this 15 track collection is a finely tuned balancing act that speaks volumes about this band. Along the patch one will find funny songwriting and evocative emotions. "Morgan's Road" is also swimming in the deepest end of the pool with acts such as Pulp, Elastica, Chili Peppers and Dave Matthews Band. "Topics of Love" is like a curve ball and one might also take note these 5 have moved away from their progressive rock pacing of other bands in that ilk. The end result 15 new tracks that more closely resemble progressive pop songs in terms of length and musical form, but this is not to say the music is conventional and extremely funky. All the while keeping it mild, real, flowing and simple. The first track "Stay" gently rolls out through a roughly 4 minutes intro piece of music ranging from alt rock, progressive rock, and even course classic funky-pop styles. Others like "Love Song" takes no prisoners and "Dang Diggity" and "Bad Man" also add fuel to the fire. Getting back to their core sound – I'd say this hybrid sound is a good move for sure. The voice and persona of Woodruff will captive the mainstream – with his top shelf vocal performances. While some albums rely on over the top theatrics this one is ironically more laid back in stature.
Morgan's Road are not trying hard to win any Grammies here. Rather these 5 infuse light hearted guitars and simplistic themes which made more sense to me the more intoxicated I became. The rhythms and slow burning vocals coupled with the mind blowing vocals and lyrics will cause you to think and comprehend life itself from their twisted and funny perspective. It all makes perfect sense to me now.
Label: Spectra Records
Official URL: http://morgansroad.com/
Jerry Dempsey
Rating: 4/5