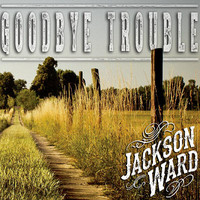 Jackson Ward is one band appearing to be making all the right moves. Their infectious blend of country and rock is on display as he blazes the trail in 2014/2015 on tour. Tour dates are listed far below hyperlink. Country by definition, but fueled by rock and roll and infected with a watermelon-sized helping of hope, love and salvation, Jackson Ward is the kind of band you want to have on your side when the going gets tough in this world and this new album, Goodbye Trouble is set to be your alibi.
Jackson Ward are: Tony Jackson – Lead Singer, Bob Breckenkamp – Lead Guitar, Jeff Richardson – Rhythm guitar, VOX, Doug Walls – Steel guitar, VOX, Bryan Mitchell – Bass guitar and Jon Ward –Drums.
There's a real sense of cathartic musical independence here via this latest work from this red hot band. What's more this latest release features some celebrated session musicians. While everything here on this 5 track set entitled is shall I say exceptionally entertaining it also manages to cover a pretty wide range of musical styles. When you listen to the music of Jackson Ward I can hear so many influences and styles ranging from modern Clay Walker, Kenny Chesney, and Rascal Flats to Keith Anderson. More influences are perhaps: Joseph Arthur, Beach House, MGMT Wilco and Gram Parsons. But it needs to be said that the real magic is how Jackson Ward manages to blend all these above ingredients into his own signature sound. Jackson Ward encompasses the rich history of Americana Blues Roots, then broadens and reshapes it into something youthful, reckless and very passionate and somewhat out of control – or rather sings about thing he cannot control. All this and more make Jackson Ward's songs extremely refreshing and uniquely brilliant.
A few tracks notably stand out for me in particular. "A Little While" and "I'm All In" are 2 very strong tracks that deliver pure grooved magic and an impressive writers touch. I can hear these on the Radio. Much of the strong 5 track EP present straight forward R&B that is like I said before – about topics that are close to the heart. Despite this somehow the music has a more of an organic bluesy/pop feel as the album hits the deck running. Jackson Ward is definitely a modern example of a Modern Country Rocker popular in the 90's. I can hear acts like Chris and Thomas, Blind Pilot and Citizen Cope with a Nashville twang. Above all there is an underlying yearning love passion theme going on. As a result this style of music was not so easy to pigeonhole for me, however I suspect many of the previously mentioned bands have had an influence. The musicianship is shall I say, off the chain. The vocal front from Tony Jackson is just as gravitating as the music. Jackson's got talent behind the mic/guitar and really draws you in emotionally. I'm convinced he know what he's doing as he displays emotions behind a microphone. Another highlight for me is the single "Goodbye Trouble" (Drink by Drink) exemplifies their sound to a T. It's got plenty of cool guitars riffing, bass playing that sits deep in the pocket but above all it shows just how far Jackson Ward will masterfully navigate with sheer precision through this simplistic yet amazing piece. All members of Jackson Ward demonstrate their individual musical talents and abilities as well without being to over the top about it. This is hard to do then it sounds. Some bands come across as being to simplistic – not Jackson Ward! I get the impression they are a fun band to see live, even in a small intimate live setting.
So are you thinking what I'm thinking? Somehow all the above is not compatible with the superficial musical times we live in? Jackson Ward is well-suited for a wide audience that enjoys emotionally driven Country Rock with a poetic-folksy flair, amazing writing and a good visual and sound. There are even elements of Rocking Blues on here as well. Expect great things from Ward and their fanbase explodes past Virginia. I believe there's a detached and disgruntled audience just waiting for them to arrive.
Jackson Ward Tour Dates: http://www.bandsintown.com/JacksonWardMusic
Label: Spectra Records
URL: http://www.jacksonwardmusic.com/
Score: 4/5 stars
Wes Walker