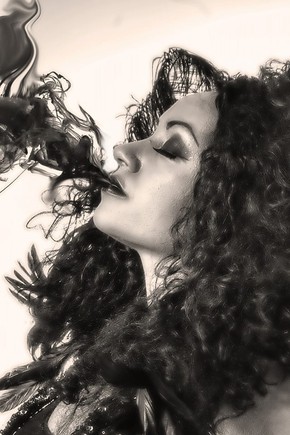 Progressive, hard rock/metal vocalist Militia Vox releases here new cover EP BAIT today. BAIT is the tempting lead-in to the upcoming original release, THE VILLAINESS, out in 2015. BAIT showcases Militia Vox as a response to and antithesis of the current pop star, a leader of strong women in music, and a representative of the underworld and its clan of rebels, outlaws and outsiders.
Influenced by the darkness of Type O Negative, Tool and Nine Inch Nails, the multi-talented solo artist Militia Vox (vocals, songwriter, arranger, keys/synth, rhythm guitar) has been a classically trained pianist since the age of 7 and a central figure in bands including Judas Priestess (the world's only all-girl tribute to the metal gods, Judas Priest), Swear On Your Life, and Disciples of Astaroth before heading out solo in 2013.
"A charismatic, badass vocalist capable of commanding any stage,"(The Guardian UK), this bi-racial bombshell has reinvented herself as "The Villainess," a femme fatale with a lust for heavy music, who is on her way to becoming the queen of heavy metal with BAIT.