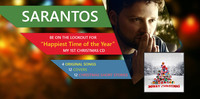 "The Happiest Time of the Year" is aptly named. Sarantos express his utmost cheer throughout the piece. With a jaunty feel the song captures the true spirit of the holiday season: one where people are able to appreciate their closest relationships friends and family. By using a playful attitude throughout the piece it simultaneously explores the joy of the holidays alongside the gratefulness that comes with making it through yet another year. Additionally the grandiose arrangement works to emphasize the larger-than-life spirit that defines so much of the holiday spirit. Sarantos displays great taste in the careful selection of sounds.
"The Happiest Time Of The Year"
https://www.youtube.com/watch?v=-jB0KIEK-Ms
Lyrically the song explores the little moments that make the time of the year so special. Alone these would not be worth celebrating. Brought together into a whole the moments feel truly special a complete representation of what the holiday season brings. For those able to enjoy the snow they can feel glad that while it might be cold outside the weather literally forces people to come together. His delivery of such a message is perfect. With his enthusiastic delivery he is able to display a more personal take on a universal theme. Elements of the sound help this theme become fully realized: with the inclusion of horns and bells he heralds in a great cherished moment of the year, one so well recognized that it has virtually monopolized this kind of sound.
Truly embracing the spirt of the holiday season Sarantos captures the true optimistic feeling of the holiday season.
Posted by Beach Sloth