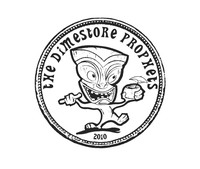 Boy-O…have you ever gone to sleep with nothing but the intention of seeing the clock spin forward and find yourself in the throes of another day…only to awaken merely hours later, compellingly refreshed like you had spent the entire winter hibernating and conserving your energy? Cause that's where I'm at right now…think I drifted off somewhere around 8:30PM only to wake up by 10PM dizzy, disorientated…but quick to snap into place…an hour and a half of sleep is really all I require anyhow.
Streaming links:
www.soundcloud.com/dimestore-prophets
www.dimestoreprophets.bandcamp.com
But then again…maybe I DO need a bit more. Either my ears or my abilities for a 'sounds-like' were not in sync when I began my venture into the music of Dimestore Prophets. I've been trying for a couple days now to put my finger on the bands these guys were reminding me of…hmmm…perhaps that's what's been keeping me awake as well…
In any event…sitting here in what feels like the AM-post-apocalypse…it's quiet outside right now on the city streets outside of sleepingbagstudios, but I'm rocking in here with the Dimestore Prophets and their playful brand of rock-pop tunes. And I've finally figured out want I want to say! Here goes…
At first, when their tracks "Be Yourself (In Time)" and "Hey Darlin," started out…the harmonious and melodic tone from guitarist/vocalist Ray Glover seemed so incredibly familiar. Though it would take me awhile before I pinned down the most relevant reference in sound, I started zeroing in on a lesser-known Canadian band that never quite made it; Rymes With Orange. Theoretically speaking, even with the power of the internet…there's no way this would have been a band to influence their sound or songwriting…but at the right times, Glover is a dead-ringer for the passionate qualities I used to find, know and love from that band.
But that's clearly not the root of the sound of the Dimestore Prophets…I continued to search the archives of my brain…I landed on Better Than Ezra. When I started to think about "Our Story," and "Good Lovin;" both of those tracks seemed to have the playful mix and sweet tones of pop/rock that saw this nineties band skyrocket to fame instantly with their catchy, heartfelt & emotional tunes. But even I know…as much as I might want it to be…this still isn't 'it.' The songwriting might be similar…but the sound is different now…I must continue my search…
And then it hit me…literally and audibly…like a freight….umm….Train…
Train! Man! The comparison is so accurate that I can now ONLY assume I do in fact need more sleep.
I think it was actually somewhere halfway around the midst of listening to "Good Lovin," the rhythmic backbone of this EP that it finally hit me…what a band to be compared to! I'm not ALWAYS accepting of Train's work…sometimes there's a little bit too much of the 'attempt' I can hear in their work…that self-induced sound that comes along only with trying too hard to write in a certain style. Here with Dimestore Prophets…you get the best of that sound without the pretense; Dimestore Prophets ARE trying hard right now, but the efforts are justified by their timeline – there's no bullshit here, just three guys making some really fantastic tunes.
Here's an example of a great tune right now; "Draw For Love." This epic….nearly pop-rock power-ballad of sorts, works incredibly well for them and flexes one of the most unique muscles on this EP. It has gorgeous melodies, outstanding songwriting and a superbly convincing performance. The instincts of this three piece, particularly the rhythms from John Wilson on drums & Eric Groff on bass combining with the simple-but-effective riffs of Ray Glover really show that this is a forward-thinking three-piece band. There's flawless pop-melody & hit-songs dripping right off the machines that pressed this very album; six verifiable catchy songs that are designed to make you smile and sing along.
It's a warm & inviting experience to listen to Be Yourself by these Dimestore Prophets. As they wind it up with a really smart ending in "Sunny Day," theirs is a pop/rock music with some staying power; though you'll want to listen to it on repeat, its slight-rock edge and flawless songwriting will keep these pop melodies holding up over time. Great feel good tunes here, made in a memorable style.
www.dimestore-prophets.com
www.facebook.com/dsprophets
Jer@SBS – http://sleepingbagstudios.ca/