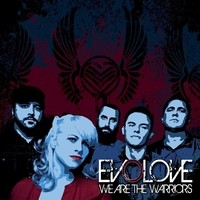 Evolove just released their latest CD entitled We are The Warriors" (2014) under Spectra Records. These latest group of songs are sure to one day be remembered as one of the classic modern rock band of our time. It's pure Blues the way it used to be via full-tilt playing and hooky soulful grooves. The ultimate in musical intoxication.
Evolove are: Lucy Levinsohn (vocals), Billy Berman (bass), Dave C (Guitar), Colby Jensen (Guitar), Andrew Carroll (Drums).
To date the band has released three studio albums with the fourth slated to be released later this year; 2012: Countdown to the End (EP), Breaking Heartstrings in (EP), Acoustic Sessions Vol. 1 (LP) and the band's upcoming album, We Are The Warriors that will feature 12 tracks. The album is set to release mid-2015 with the first single "Warriors" slated for a Worldwide digital release on February 10. Produced by Mikey Doling (Channel Zero, Soulfly and Snot), it was mixed by Brian Virtue (Audioslave, 30 Seconds to Mars, Deftones), Gerald Jans (Channel Zero) and Gus Cyrns (Get Scared, The Acadamy Is). The music video to be released along with Warriors demonstrates what Evolove is all about—bringing people together through their music. Hundreds of fans submitted personalized photos, making this one of the band's most unique videos.
Evolove will take you back to a better time, a time when distorted guitar actually existed in music. "We are the Warriors" opens with "All for Something" and "Do or Die" 2 grand slam numbers with loud guitar, drums, bass, and solid vocals to boot! "Warriors" and "Arrows Against Guns" really sealed the deal foe me. A few of these tracks are perfect for a club full of broken hearts. The 5th track "Burn" really lets it all hang out with catchy vibe full of intrigue, power and burning love embers. One thing that impressed me about this album is the attention to detail and overall production value. There is an ambience that really sucks in the listener into their world of rebelliousness. Many songs are radio friendly. The instrumentation and tones give you that genuine feel of good music from generations ago. These 5 have a good visual as well. Evolove are marketable and a strong band live. Levinsohn is the lead on vocals and iinvokes singers like: Heather Nova, and Courtney Love. In many ways Levinsohn is the strong card – who when combined with a distorted guitar capture the adventurous spirit of this music. Bottom line: It all works extremely well. This will ring true not only for old listeners but new ones as well but mostly sounds like a powerhouse band from the 90's.
Evolove wraps up a well-rounded 12 track set providing an interesting cross section of classic Psychedelic Alt Rock popular 10+ years ago – but still fresh and alive. How is this possible? Only a 'Shooting Star" persona can pull it off and Evolove is like a shooting star. Music like this is sorely missing from the 2014 repertoire. Evolove fills this musical void, they can hold their own against any hot running youthful bands out there right now.
LAST FM: http://www.last.fm/music/Evolove
Official URL: https://www.facebook.com/evolovetheband
Ely Moss