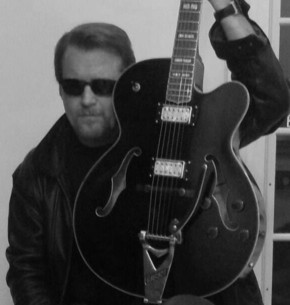 Ron Buhlinger currently has two bands. A Blues band "The Blue Shadows" and a Classic Rock band "The Stingers". This versatile guitar player has played with many different bands over the years and continues to please crowds all over St. Louis.
Tell me how you got started playing guitar.
I started playing guitar at around 11 years of age and played my first professional gig at age 14. I first got into music at age 5. I lived in a musical family ,my dad sang opera and records were always being played. I also heard the Beatles for the first time at this age. At age 6, I got my first guitar but didn't start taking lessons until around age 11. When I heard Jimi Hendrix I decided that I've waited long enough- its time to learn how to play. Of course being a beginner I was taught the basic chords and how to play primarily as a folk guitarist. After I had learned everything my teacher could teach me I stumbled upon a book called Improvising Lead Guitar. This opened up the entire universe of lead guitar that I had been searching for.
"Europa"
https://www.youtube.com/watch?v=0AaDNVdKRQ8
Who were your early musical influences?
Before I was playing guitar I had a series of favorite bands and songs; The Yardbirds, John Mayall, Cream, Blind Faith, Derek and the Dominoes. As a 7 year old I didn't realize those bands all had one thing in common-Eric Clapton. Once I did and I started playing guitar, Clapton became my primary influence. After developing my initial skills I then got into Hendrix and the blues. I had read that Clapton and Hendrix were influenced by the early blues players so I did my research and learned those styles as well.
Tell me about your musical journey.
I've played in many bands over the years. I played in Morgantown with the Duane Allman Tribute which was a tribute to the Duane Allman era Allman Bros. We toured regionally playing at the Swagstock Festival in front of about 20,000 people and at B.B.King's club in Memphis several times. These two venues were probably my favorites. In a different venue we had opened for country rock icons Poco seven times and those may have been my favorite gigs (gig wise not necessarily club wise). I have also played with international blues sensation Boo Boo Davis. He currently has a song on the soundtrack for the Sons of Anarchy hit tv show entitled "I'm So Tired". It is also featured on the Five Hour Energy Drink commercial.
What are you working on now?
Currently I have two bands the Stingers STL a classic rock band and The Blue Shadows Stl a blues band featuring members of Chuck Berry's band and The Impressions (as in Curtis Mayfield and the Impressions).
What would like to be doing 5 years from now?
I would like to be playing more gigs and becoming a regional act playing festivals and so forth with my new projects.
Links: The Stingers STL: https://www.facebook.com/pages/The-Stingers-STL/104520422945130
The Blue Shadows: www.facebook.com/TheBlueShadows
Ron Buhlinger: www.facebook.com/ron.buhlinger.3?fref=nf
Also the Stingers have a website on wix that can be reached at the following link: http://ronb789.wix.com/thestingersstl.
Diana Olson – diolson05@yahoo.com