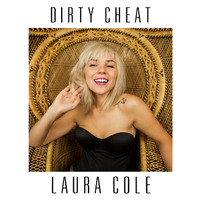 Laura Cole's spirited delivery and retro style make "Dirty Cheat" a memorable damned perfect LP. By letting the songs unfold naturally she creates the aura of smoke-filled rooms late at night, with her lyrics serving as the equivalent of pouring her heart out. Thankfully she opts to use this style to call out people, to strike a chord of defiance. Indeed it is this feature that helps to make the LP so memorable.
Audio: http://lauracole.bandcamp.com/releases
"Sweet Escape" opens the album off on a jaunty note. The comfortable groove works its way around Laura Cole's distinctive vocal. Interplay within the song lets the rhythm nicely spread out. With "Darlin' SweetHeart" there is more of an almost carnival-esque atmosphere. Her lyrics match the dreamy feeling of the song. Slowing things down is the dark "Death Row" whose skeletal structure and light touches of accordion help to make it romantic in a way. By far the highlight of the album is the playful "Unworthy". Full of power the song employs a languid tempo to match Laura Cole's delivery. Light flourishes work wonders from the sound of the xylophone to the wordless chorus.
Towards the end of the LP things begin to take a softer tone like the casual groove of "Week There One Day". Laura Cole moves into country-tinged territory on the mellow "Let It Roll". Ending things off with the taunting joys of "Dirty Cheat" Laura Cole's lyrics really steal the spotlight as everything else on the song works to serve her excellent delivery. "Dirty Cheat" is a downright perfect LP just the right mixture of style and substance.
Posted by Beach Sloth