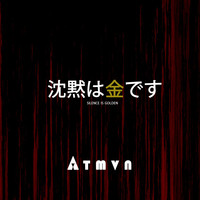 Let this be a lesson to you all…don't just check ONE page, check them all! My original experience in listening to Atman came through what I found out to be a mere sampling of the full album on his Soundcloud page – for a moment there…I was about to review this new music as I would for a 'single' release…good thing we're relentless and check every corner of the net. Opening up Spotify…I realized I almost missed a ton of incredible new-rap from Atman…there's ten tracks of wicked beats and rhymes here that you gotta check out.
He starts out excellently, there's energy, flow and a vibe I can dig right off the drop with "Silence," but I've GOT to tell you about the following track, the one that instantly sold me – "Ceilings." THIS….this is what I want…this track is pure genius. With its complicated rhyme, unique and atmospheric beat, perfect tone & delivery – this is the exact kind of tune that excites my eardrums and really shows the depth of skill flowing out of this MC. I could listen to this track all damn day.
Audio:
https://play.spotify.com/album/0M7dcTqWUmqu5TlqrpDsk9
https://soundcloud.com/atmvn/sets/atman-silence-is-golden
The flow he works with….hell, even the beats themselves remind me quite a bit of Kanye West and his ability to bring new sound to the game. Much of this is put together in that similar minimalist style…there's not a TON of sounds creating the music, but every piece placed is perfect and produced so well that I can only imagine that this album came out EXACTLY as Atman was intending. The middle of the album will give you an idea of what I mean here…check out tracks like "Tell Me" and "Thank God;" you'll hear the creativity in minimalism here, rap-verse with addictive hooks and confident delivery.
"Nightmares" is one of the tracks I found at the first page I was listening to Atman on…really highlights the dark and somewhat menacing tone that often creeps into his work. It's an intense beat, and once again you can hear Atman stretching to the limits of his own creativity, putting a unique part, beat, bar or break into this track and the rest on the album. There's a true artist & visionary at work here; some people are going to pick up what Atman is throwing down right away, others might not be able to 'hear' this just yet. He takes risks, he takes chances…there are always bound to be moments that resonate with listeners as true standouts in comparison to the others on the album; but the audible fact is that Atman is willing to try ANYTHING new to CREATE something NEW. Pass or fail, you gotta respect that.
As the album heads in towards the closing, tracks like "Killer," demonstrate his killer ability to assemble vocabulary like soldiers marching to war; these words march right out of his mouth, into the mic and straight into your speakers – but YOU will be the one solely responsible for turning it UP – and "Killer" gives you every reason to. With a stuttered timing and complex flow to end the album on "Golden," Atman proves time and time again you never know what to expect when he steps up to the mic; it's always going to sound exciting and new, but you never know which direction he's going to twist his rhymes in.
Overall, sure, silence can be a golden thing – but, thankfully I use that time for sleeping. When I'm awake and these eyes & ears are open; they're listening to music.
And in that respect, I'm definitely glad Atman couldn't keep quiet on this killer, diverse and truly creative rap album Silence Is Golden.
Jer @ SBS – http://www.sleepingbagstudios.ca