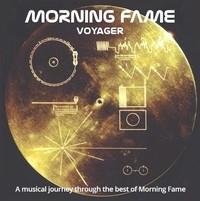 This latest release by Canadian 4 member rock band Morning Fame is a compilation EP called "Voyager." This is not a new band as they have several albums to their credit now. A band like Morning fame really cannot and/or should not be underscored of even conveniently pigeonholed. Their latest 4 Track EP is called "Voyager." The band has built its sound around crafting memorable and meaningful songs with the ringing arpeggiated guitar style of Joe Liranzo, the plaintive vocals of Vik Kapur, the intricate drum lines of Al Dennis and the melodic bass lines of Rob Gilberti.
The music, lyrics therein invites the listener to sift through a multitude of alternative rock sounds, all of which congeal in a tangible yet gorgeous selection of songs – 4 of them in fact. Kicked off by therapeutic "Dreamality" which if you think about it is the perfect intro piece to start a musical journey from. There's somewhat of an upbeat, hopeful tone and mood here when one is introduced to this amazing band and Kapur's voice and Liranzo's guitar for the first time via this track. Kapur's voice is well suited for this psychedelic, neo-alternative rock catalogue and I have to admit when I saw the pictures of these guys and after listening to this first song – this band was everything I imagined them to be. On "Voyager" EP we hear a bone crushing line-up of songs reflecting the many tongue and cheek offerings provided by past bands like Fuel, Emerson Hart, Nine Days, Vertical Horizon and Oleander. This proves to be a very well grounded environment for this collection songs like "Cast Away" and The Colour of Sound."
Despite this Morning Fame branches off with other pieces like "The Golden One" and my personal favorite "Cast Away". While the US is home to some of the best Alt Rock on recent years it doesn't mean bands like Morning Fame can't contribute equally within the once saturated genre. Granted there's no rule out there that says a band from this region can't possess elements of Alt Rock – because Morning Fame most certainly does. My point is along with artists like the ones mentioned above, Morning Fame sound like they are from the US. Musical expressionism should never be held to a strict guideline of musical fundamentalism. I hate to use that word "fundamentalism" here but that's what it feels like sometime when we try to pigeonhole good bands. Sad to say Morning Fame area a dying breed as most good bands have been replaced by synthetic garbage. I also don't think "musical fundamentalism" is what Rock n' Roll is about.
"Voyager" EP is in a league of its own combining the best US alt-rock sound I've heard in years. Though these guys are Canadian based they sounds like they are all too familiar with the classic US rock format. The musicianship is off the charts, the songs are amazing and the catalogue is a wild short and sweet" ride all around. "Voyager" Compilation is a strong EP. It also refuses to fall into the trap of becoming fundamentally pigeonholed or even a slightly duress-ridden repetitive rock album. The musical arrangements really differ from song to song and the vocals and emotional latitude tend to remain compatible with the versatility of the artist. All a constant level throughout. Its music that you could use to watch the clouds go by to – but also music that makes you want to jump up, grab your guitar and form a band of your own. To inspire fans to shut off their minds and dance all night long. Isn't that what's Rock n Roll is all about?
SOUNDCLOUD: https://soundcloud.com/morningfametracks/sets/voyager-compilation-ep
URL: http://www.morningfame.com/
Leonard Bryant