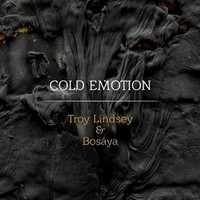 Cold Emotion is an album rich in sound and rich in meaning. Inviting the songs are comfortable pieces full of soul. Lyrically Troy Lindsey & Bosaya opt for the narrative for these pieces weaving them together to give a composite on a person's life. Details are of the utmost importance: from organ swells to the strong rhythm section, everything neatly syncs together. Of course the true heart comes from the well-worn yet empathetic vocals.
Buy: https://itunes.apple.com/us/album/cold-emotion/id937595710
Opening up with the smoky tones of "Dark Hour" the mood for the album is immediately set. Gradually unfolding the song's low volume works to its absolute benefit. Much brighter is the playful rush of "Like A Fool". For "It's Not Your Fault" things take on a reflective tone. The aptly named "Outlaw Love" focuses on greater truths with the help of a band that shows off their tremendous skill at interplay, with each player fitting in perfectly. Atmospheric in tone is the grandeur of "End Of It All" whose quiet tones explore that of America's heartland the empty spaces that have come to define what America really embodies. By the time the song comes into full bloom for the finale it feels completely earned.
For the final stretch of the album Troy Lindsey & Bosaya go for rush to the finish. The songs pick up, leaving the dreaminess behind for a more immediate intense feeling. "Think About This" ends the collection off on a high note, neatly summarizing everything that preceded it. "Cold Emotion" is an album that taps into the best of country and rock.
https://www.facebook.com/pages/Troy-Lindsey-Bosaya/759461440751368?ref=ts&fref=ts
Posted by Beach Sloth