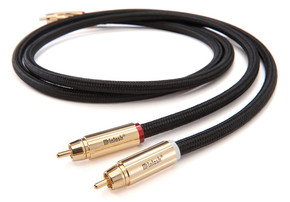 High quality cables can make all the difference when it comes to sound. In fact, many audio enthusiasts argue that the quality of the cable is just as important as the equipment they are connecting to. If you want high performance audio, buying budget cables can be a huge mistake.
Fortunately for music lovers, it's now easy to find quality cables online. Audio experts such as The Cable Company offer an extensive selection of high end cables to choose from. Before you start your search, it's important to think carefully about what your specific requirements are. To help you make an informed decision when it comes to choosing cables, here's a roundup of some of the best products on the market:
Acoustic Zen's Absolute
Utilizing Acoustic Zen's innovative 'constant air twist' geometry, each conductor is double insulated to produce a clearer and more engaging sound. Protected first by a layer of Teflon, the conductors are then covered with a second layer of air insulation to help block out any noise interference. This special hybrid design serves to amplify the interactions of high current signal flow to enable an extremely detailed listening experience. With an outstanding inductance of 0.41 uH/ft and resistance of 0. 008 ohm/ft, these cables produce deep lows, intense mids and vivid sonic layers.
Accustic Arts' Premium Line MK2
Another item that is worth a look is Acoustic Arts' Premium Line MK2 speaker cable. Made from 99 per cent pure copper, the capillary conductors are constructed in a twisted configuration for optimized inductivity, with a double layer insulation that serves to reject noise interference. This top of the line multi-core cable features extremely fine electromagnetic shielding, allowing for a greater detail retrieval ideal for recordings. The cable also boasts high quality copper spades coated with pure gold to enhance the performance further. With this cable you can benefit from a wide range of musical nuances and a top quality bass performance.
Audience's AU24
Boasting a simple appearance with optimal configuration, the Audience AU24 range is high resolution technology at its very finest. Constructed of single crystal copper conductors with polypropylene insulation, this cable is specially designed to yield low-eddy current resistance. While it may not have the most impressive looking connectors or large jacketing, it excels in achieving what it was designed to do – produce the highest level of performance with supreme sonic detail.
WyWires's Silver Speaker Biwire
Utilizing WyWires air dielectric, Litz technology, the design of the Silver Speaker cable embodies the manufacturer's philosophy of 'less is more' while producing state-of-the art audio performance. Sitting mid range between the Eclipse and Gold Eclipse versions, the Silver Speaker cable has been specially designed to deliver a natural and detailed sound. Boasting an extremely high bandwidth, the cable works to preserve the nuances in high end speaker and amplifier models.