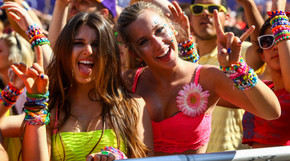 Are you ready to rock? Here are seven music festivals that rank right up there with Donauinselfest, and you don't even need to leave the country to enjoy them.
1. Warped Tour
Held every year in different cities, the Warped Tour is one of the most popular in America. It attracts all ages, genders and incomes; it fills the crowd with everyone from 15-year-old metalheads to 40-year-old anarchists. All you need is a love of punk, rock and chaos.
2. Electric Daisy Carnival
The Electric Daisy Carnival (EDC) draws anywhere from 300,000 to 700,000 people a year, making it one of the largest and craziest festivals in the country. Like the name suggests, it's all about electronic and techno music, so ready your ears for dubstep and prepare for a show like none other.
3. Bonnaroo Music and Arts Festival
Traditionally known as a country and folk fair, Bonnaroo has expanded its portfolio in recent years. You can now find everything from raggae to hip hop being played on its stages, and since there are almost a dozen, you'll always find something that you like.
4. Treasure Island Music Festival
Founded by Jordan Kurland and Kevin Arnold, this two-day festival attracts an eclectic blend of artists in one of the most eclectic cities in the world. If you're looking for a fun time in San Francisco, let Kurland take you on a journey that you'll never forget.
5. Pitchfork Music Festival
For a more intimate experience with music, try the Pitchfork Festival. It does host more than 50,000 attendees a year, but it also prides itself on its welcoming and laid-back environment. You can even check out local "specialty fairs" devoted to art, theater and dance.
6. Lollapalooza
You'll see everyone from Eminem to the Arctic Monkeys at Lollapalooza. You can also catch the festival at multiple countries around the world; it's become one of the biggest and most well-known musical events in the entire world.
7. Firefly Music Festival
There's something magical about the Firefly Music Festival. Not only has it welcomed hundreds of bands, singers and musicians over the years, but it's also located in a beautiful woodland area where you can enjoy light and sound shows in the very heart of nature.
These are just seven music festivals that will creep into your bloodstream and stay there. Whether you're looking for rocking concerts or country extravaganzas, America can provide!