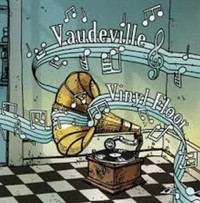 "Vinyl Floor is a 3-piece rockband which hails from Copenhagen, Denmark. The band was formed in 2007 and consists of the two brothers Thomas Charlie Pedersen and Daniel Pedersen and the longtime friend and colleague Rasmus Bruun. It's always a breath of fresh air to hear a new and exciting band that's not afraid to take chances with their music. Enter Copenhagen based 3 member Rock band Vinyl Floor and their latest musical offering: "Vaudeville" (2014). This is their fifth release.
Band members: Thomas Charlie Pedersen (vocal, guitar, piano), Rasmus Bruun (guitar, piano, organ) and Daniel Pedersen (drums, vocals, piano).
This simple, brilliant, unique title arrangement tells me a lot about the band. It's clear to me they have surpassed what many consider the a-typical rock release in 2014. From the beginning track "Change the Song" to Track 12: "The Abyss" this CD delivers on all fronts and quite frankly BLEW ME AWAY. Although on "Vaudeville" there's here that hasn't already been done before, but it's amazing nonetheless. This is good alternative rock that delivers 12 mind blowing songs that will keep you mesmerized with quirky messages, music that is slightly adrenalized, and a vibe that is unmistakably Vinyl Floor. These 3 combine many impressive musical styles like vintage classic retro rock, retro alt-rock even prog-rock to traditional singer/songwriter rock. Now that's a pretty whacked out yet impressive list. Some of the pieces on "Vaudeville" I really like are as follows: Shift, Just a Shadow, Colorblind and Basket of Kisses. A few tracks Just a Shadow, Change the Song and Nation Underground even expand the possibilities of a radio hit in the making. What's more: the musicianship of the band delivers! The production value pulls out all the stops with a wide ray of instrumentation. The music of Vinyl Floor will also remind you of O.A.R, Dispatch, Tim Reynolds, The Cinematics, The Drums, Bombay Bicycle Club and
Queens of the Stone Age. On the other end of the sonic spectrum I can also hear: Grizzly Bear, Porcupine Tree, Philip Selway, Beck and The Strokes. Like I had mentioned the production value is also top notch and the vocal front of Pedersen really gets its point across and goes beyond traditional pigeonholing by music critics like myself. He delivers a gifted vocal ability as he glides with precision through all pieces (guitar/vocals) with amazing harmonies and a captivating vocal timber.
In close much of Vinyl Floor goes beyond just good playing and world class songwriting. Lyrics are also an important factor for me when listening to a band or artist. In this aspect I found these songs most intriguing as they paint you an impressive visual between the spoken word and messages of hope, love, mystery and the love of life itself.
Rating 4/5 Stars
URL: http://www.vinylfloor.dk/About.html
Reviewed by: Derek Frandsen