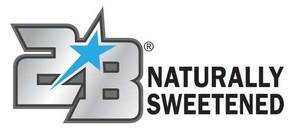 Created to address our nations losing battle with obesity, 2B Beverages is making a positive contribution to reduce the amount of sugar Americans consume by offering two new drinks 2B Sparkling and 2B Still, which contain 80% Less Sugar than traditional full sugared beverages. 2B is proud to say they've found a way to offer people healthy and great tasting drinks by using Pure Fruit, an all-natural sweetener from Tate & Lyle.
In an effort to improve the well being of students and encourage lifestyle modifications / drinking habits, the New York Department of Education has acknowledged 2B as a tasty, popular low sugar option and is now selling 2B Sparking and 2B Still in all NYC Schools – home to 1.1 million students and over 75,000 teachers. In addition, schools in Connecticut, New Jersey and Pennsylvania are now offering students 2B Beverages.
Sadly two out of three adults and one out of three children in the United States are overweight or obese. Sugar plays a major role in this epidemic. Until the FDA updates the requirements of Nutritional Facts labels, today's consumers are faced with a big challenge as 80% of the food products found in stores contain added sugar, yet can still be labeled as "sugar free." 2B Drinks and large segments of the beverage industry have displayed leadership by voluntarily disclosing calorie content on the front of their labels and by introducing a variety of lower calorie choices.
According to The American Heart Association, woman shouldn't consume more than 6 teaspoons of added sugar in a daily calorie allowance, 9 teaspoons for men. A traditional full sugar beverage contains 15 to 18 teaspoons of sugar – more than double a daily allowance. 2B Beverages is now offering families drinks with the equivalent of 2 teaspoons of added all-natural sugar.
We're all overwhelmed with the amount of choices we have and 2B wants you to start making an educated and healthy choice. Try 2B today and tell us what you think by using #2BChallenge
2B Beverages is now available nationally at Wal Mart, Amazon, Whole Foods NYC, Casey's General Store, King Kullen, Stew Leonard's and more. Visit www.2bdrinks.com for exclusive promotions.