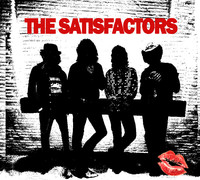 The Satisfactors are balls to the wall rock and roll. Everything they do taps into the spirit of early classic rock. With a defiant, party attitude to their songs their entire album is pure fun. Lyrically the songs explore the grimy side of rock, from parties to escaping bad situations. None of the songs overstay their welcome. Kept concise these are powerful bursts of energy from the powerful rhythms to the passionate playful guitar work that serves as the centerpiece for each song. For every piece the sung-shouted vocals nicely sync up with the brash guitar riffs..
Album Promo:
http://www.youtube.com/watch?v=hIA-RcbuhFA
Wasting no time "She Got Charm" opens the album up in an absolute rush, with a crooning Billy Idol style delivery. One of the album highlights the piece burns through its running time. From there they go into a ridiculous story with "You're So Crazy". Things move into serious territory with "Hey Mama" which describes the pains of living in a terrible unsafe place. Happiness defines the aptly named "Sweet Sunshine" whose giddy nature is undeniable. "Take Your Troubles Away" comes quite close to the same level of sweetness of latter-day Ariel Pink without the tongue in cheek quality. Lightened up with the flexible groove of "Girl Just Wants to Dance" The Satisfactors begin their slow unwind towards the finale of "Had It With You".
Full of joy and full of respect for rock's storied history, The Satisfactors are pretty much the best damned thing to happen to rock and roll in a long time.
Official Band Web Site: http://www.thesatisfactors.com
Facebook Fan Page: http://tinyurl.com/facebookthesatisfactors
Twitter: http://www.twitter.com/thesatisfactors
Posted by Beach Sloth