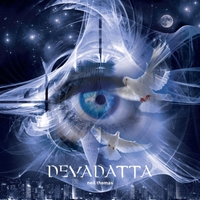 'Devadatta' is the follow up album to 2010's 'A Century of Lullabies'. Much like it's predecessor, it's another concept album (with more than a nod to the progressive rock genre) mixing stark imagery, social commentary and humanist philosophy to create a tapestry of vivid soul-searching and storytelling. There is immensely detailed substance to this album, which ultimately means that a single listen through is not going to be enough. With catchy choruses and hooky melodies there's plenty to compel the discerning listener to keep hitting the play button over and over again, each time peeling back the layers. From the driving rock thunder of the opening track, 'Adrenalinized', to the acutely intimate 'Charm Offensive', the album offers an array of emotion. Do not be fooled by the number of tracks either. Both 'The Dragon King's Daughter' and 'Moral Compass' are both over 10 minutes long – broken down into suites, they give the impression that you are actually listening to ten or twelve songs, rather than eight.
Does all of the above sound a bit over the top to you? Well guess what sometimes it just comes with the territory. Lest we not forget this is after all a form of entertainment correct? At the least a guy like Thomas understands the appeal of a novelty and retro UK rock sound and how that might factor into the intrigue behind the vibrant rock sound they put forward on this CD. Mind you this is not just a labor of lust and testament to a Sex, Drugs and Rock n' Roll. It's also a sweeping voluminous record that hits on many levels – mainly alt-pop. Thomas has taken a page from the script of many mega pop stars from the 90's and turned it inside out, inside out and quite literally breathed a whole new life into this style of music. Instead of dated sounding songs and an obvious homage paid to the music and musical ideals of the past this is an action packed blast from the past that goes everywhere from Pop, to Rock to aspects of Progressive Rock and Classical Rock. This latest 8 track CD delivers an uncharacteristic fusion of hard, melodic guitars and unique songwriting techniques, with a limber rhythm section that keeps the music loose yet powerful… and HIGHLY addictive and hooky. Musical influences may include: Wayne Hussey, Beck, R.R.M. and Gene Loves Jezebel.
Diving into the CD now "Adrenalinized" and "Time Bomb" literally jump off the plate in rough and tumble fashion. With a grinding guitar and a smooth as silk voice this artists and band channel explosive energy straight between the eyes and ears. It's a solid start and offers a hint of what's ahead. Completely shifting directions a bit powerful "The Dragon Kings Daughter" my top pick for the CD which has a very marketable sound and message from the UK.
Other track like "Deliberate Self Harm" and "Random Acts of Kindness" Have very powerful messages. and offers a glimmer of hope amongst raw truth and bold honesty.
Thomas needs to come out of his shell more vocally with more personality and risk-taking. When this CD was over I failed to gain his perspective or get emotionally invested in his music. I thought about this for a while and its due to his vocal component – needs to be more intimate on some parts, more reckless in others.
"Devadatta plays out like most UK Rock bands from the 80's and 90's. Yes – there's a whole lot of thought provoking rock going here. But let me go on record by saying this album is definitely one of my favorite CD's I've heard in recent memory from the UK. The songs definitely dance from one tempo and style to the next. Unlike most artists of this ilk, Thomas takes the high road to get his powerful message heard. Thomas never once feels like he's forced upon you either like many stupid artists. Instead he sucks you in. Bottom Line: Thomas is a sheep in Wolf's clothing, and his bark is a little worse than his bite. This is a good effort for Thomas as his sound will no doubt continue to evolve as his life will. It's a highly enjoyable listen, and admittedly, growing on me with every spin.
GROOVESHARK: http://grooveshark.com/#!/album/Devadatta/9804668
URL: http://www.neilthomas.co.uk/
Toby Franklin